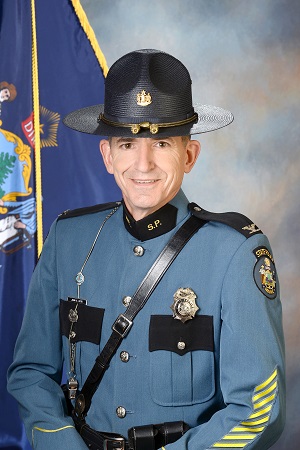 On behalf of the men and women, both sworn and civilian, of the Maine State Police, welcome to our website.  While an extensive update is underway, I hope you will browse the various sections of our current site to learn more about the wide range of services and  opportunities  our agency provides.  Whether you are hoping to learn more about who we are and what we do, or perhaps researching a potential career with our agency, we strive to provide the information you need.
The Maine State Police was established almost 100 years ago in 1921 to enforce the criminal and traffic laws of Maine.  We have a proud tradition of providing exceptional services to those who live in and visit Maine.  Our core values of Integrity, Fairness, Compassion, and Excellence guide our efforts and interactions with everyone we encounter.  Our specialty teams provide critical response resources and expertise to the most serious calls throughout the state.  Our Major Crime Units investigate homicides, suspicious deaths, sexual assaults, child physical and sexual abuse and other major felony crimes.  Our Nationally Accredited Crime Lab provides in-depth forensic analysis for major crimes investigated by any law enforcement agency in Maine.  Our Proactive Criminal Enforcement Team is a front line presence focused on interdicting the flow of illicit drugs and other criminal activity on Maine's roadways.
As Colonel, I am honored and privileged to lead the members of the Maine State Police on our mission to keep Maine one of the safest states in the nation.
Integrity * Fairness * Compassion * Excellence