January 19, 2021
Jennifer Newendyke
On 01/12/2021, Tr. Vanadestine received an erratic driving complaint on a pickup hauling a U-Haul trailer SB on I-95. Tr. Vanadestine pursued the pickup, eventually ramming the trailer in order to get the vehicle to stop before he killed other motorists in the area. The driver of the pickup, David Stoddard of Topsham, intentionally rammed a Lieutenant from Kittery PD who was in the crossover at MM 4.5, disabling his vehicle and ending the pursuit. Numerous Troopers and local police officers assisted in the pursuit and crash scene at MM 4.5.
On 01/12/2021, Tr. Jarrett Mackinnon assisted with Tr. Lee Vanadestine's vehicle pursuit that concluded at mile 4 southbound on the ME Turnpike in Kittery.
On 01/12/2021, Cpl. Ricci Cote responded to and is currently investigating a double fatal crash involving two tractor trailer units and a passenger car on the ME Turnpike at mile 3.4 northbound in Kittery.  Both occupants of the passenger car were killed.  Many units assisted at the scene, in addition to Fire and Rescue personnel, and Turnpike Maintenance personnel.  Once the investigation is complete, a report will be forwarded to the District Attorney's Office for review.
On 01/14/2021, Sgt. Porter was notified that Mr. Kamau, who was operating a commercial MV delivering mail in a double fatal crash on the Turnpike in 2016, pled to Federal criminal charges. Kamau struck a passenger car in the rear pushing it underneath another tractor trailer unit. The driver of the car, as well as a 5-year-old passenger in the back seat, were killed.
On 01/14/2021, Tr. Darcy took a report of a stolen license plate from a vehicle that was parked at the Biddeford Park N Ride. The investigation is ongoing.
On 01/16/2021, Cpl. Physic was called to a rollover crash at Mile 30 in Arundel. One of the occupants, Shaun DiFrancesco, claimed he was the passenger in the vehicle, and that the driver had fled.  Fire Department members used a thermal imager and advised they could see a person in the woods.  Cpl. Physic and Cpl. Cote conducted a track with a K-9 from the Kennebunk Police Department but were unable to locate anyone. DiFrancesco had warrants for cases that stemmed from 2008 which were Criminal Mischief, Assault, and Domestic Violence Assault. Cpl. Physic arrested DiFrancesco on those warrants and took him to the York County Jail.  Sgt. Doughty, Sgt. Porter, and Tr. Welch also assisted. 
On 01/17/2021, Cpl. Ricci Cote began an investigation of theft that occurred at the ME Turnpike northbound plaza in Gray at mile 57.  Someone pried open a game machine overnight and stole an undisclosed amount of cash.
On 01/17/2021, Cpl. Physic received an erratic operation complaint. While Cpl. Physic was stationary waiting to see if the vehicle would come his way, he spotted a different vehicle traveling 101 MPH in a 50 MPH zone. Cpl. Physic pulled the vehicle over and contacted the driver, Frank Dushime. Dushime denied having anything to drink at all and said he had just come from work. Cpl. Physic put Dushime through field sobriety tests and placed him under arrest for OUI. Dushime was charged with Criminal Speed and OUI. Sgt. Doughty assisted.
January 4, 2021
Jennifer Newendyke
On 12/29/2020, Sgt. Porter responded to a crash involving Tr. Kelley, who was rear ended at a red light at the intersection of Veterans Memorial Bridge and Route 4 in Auburn. It was property damage only.
On 12/31/2020, Tr. Darcy stopped a vehicle traveling 100 MPH southbound on the turnpike in Arundel. The 18-year-old female was issued a VSAC for 99 MPH in a 70 MPH.
On 01/02/2021, Sgt. Pappas, Cpl. Duda, Tr. Darcy, and Tr. Williams responded to a 911 open line call on the turnpike in Saco where a female was overheard making statements indicating that she was being assaulted. Augusta RCC and Troopers worked together to gather information to learn who was calling and what vehicle they were in. It was learned that the male was from Boston and believed to be going back there. The thorough investigation led to the vehicle's location being discovered and the Massachusetts State Police being notified as the vehicle had just entered their state. Massachusetts Troopers stopped the vehicle and as a result charged the male with Kidnapping and Trafficking heroin, oxycodone, and cocaine, as well as for possessing a taser, a stun gun, and brass knuckles. The investigation is ongoing and there may be additional charges.
December 28, 2020
Jennifer Newendyke
On 12/26/2020, Tr. Vanadestine received a call from Augusta RCC regarding a suicidal male from MA traveling northbound on the Turnpike. Tr. Vanadestine located the male in West Gardiner and transported him to the hospital for an evaluation.
On 12/27/2020, Tr. Davis responded to a call of a female in the New Gloucester/Auburn area who was on the side of the highway calling for help.  Tr. Davis and Cpl. Physic had a difficult time finding the female due to her consistently hanging up on dispatch, far off the highway, and being in black clothing. Tr. Davis was finally able to locate an intoxicated female and she called for a ride. A male and female picked her up.  As she was heading southbound, the intoxicated female kept making calls to dispatch that she was feeling unsafe and arguing could be heard on an open line.  Cpl. Physic and Tr. Libritz caught up with the vehicle in Saco. All the parties were interviewed and it was determined no crime was committed. The female who kept calling 911 was picked up by her parents.
December 21, 2020
Jennifer Newendyke
On 12/17/2020, Cpl. Cote responded to the Cumberland Service Plaza on the ME Turnpike after an employee requested assistance removing two customers who were refusing to wear a mask and refusing to leave the facility after being told to do so.  The two were being argumentative and causing a disturbance.  Cpl. Cote made contact with the two, an adult male and an adult female, and escorted them out of the facility.  They were given trespass warnings.
Tr. Keim responded to numerous crashes during the recent storm.  None of the crashes were serious.
Tr. Keim was involved in a crash, where a motorist failed to move over and struck the rear of Tr. Keim's cruiser while he was at a crash scene.
December 14, 2020
Jennifer Newendyke
On 12/11/2020, Sgt. Porter took a complaint of an employee at the SB Kennebunk Service Plaza Burger King reporting they received threats from an ex-boyfriend, Ryan P. Desmond (35) of Biddeford. The complainant said Desmond threatened to kill anyone that came to see her, crawl through her window to get into the motel room located behind the service plaza, and stalk her. Desmond was located at his grandmother's apartment in Biddeford by Sgt. Doughty and Cpl. Physic. Desmond was charged with VCR and DV Terrorizing, issued a Criminal Trespass Notice for the Kennebunk Service Plazas, and served a PFA by Biddeford PD for the victim. Tr. Doughty from Troop A assisted with taking possession of a shotgun and crossbow that belonged to Desmond and were stored in a camper in Lebanon. Desmond is prohibited from having firearms or dangerous weapons as a result of the PFA.
On 12/13/2020, at 1248 hours, Tr. Reaser received a complaint from Augusta RCC, reference a father crashing his truck into his daughter's vehicle at mile 21 northbound in Wells.  Tr. Reaser arrived on scene and arrested Michael Dicarlo (52) of Berwick, after he intentionally struck his 16-year-old daughter's vehicle to force her off the road.  She apparently took off with his other vehicle after threatening to harm herself.  Dicarlo was charged with Driving to Endanger.
December 7, 2020
Jennifer Newendyke
On 12/05/2020, Tr. Welch cited Zachary S. Dewar (29) of Jay with FT Maintain Control of a M/V after sideswiping a Connecticut-based power company truck that was en route to central Maine to assist with power outages from the weekend snowstorm.  The crash occurred at Mile 41 in Scarborough.
On 12/05/2020, during the storm, Section 2 covered 16 total crashes during evening shift. This included three non-reportable crashes and 13 property damage crashes, according to MTA.
On 12/06/2020, Tr. Welch charged Derek M. Antonucci (31) of Riviera Beach, Florida with Driving to Endanger after he struck a safety truck owned by Reed & Reed, Inc. within the mile 49 construction zone in Portland. 
On 12/06/2020, Tr. Darcy and Tr. Loder responded to a crash just prior to Exit 32 NB in Biddeford. As a result, Spencer Pope (29) of South Portland was charged with OUI. No one was injured in the crash.
Sgt. Porter was notified this week by Androscoggin DA's office that a defendant in a manslaughter case pled guilty in a 2017 case in Auburn. Steven Primavera (36) of New Gloucester pled to Manslaughter receiving 6y/3y/3y and to drug charges for concurrent time.
Cpl. Physic instructed EVOC this past week that was shut down this past spring due to COVID.
November 23, 2020
Jennifer Newendyke
On 11/16/2020, Tr. Reaser clocked a vehicle traveling at 114 MPH northbound near mile marker 26 in Kennebunk.  The operator, Grouse Shaik (23), was summonsed for Criminal Speed.
On 11/20/2020, Tr. Darcy assisted Troop A with a family fight in Dayton. The male party was intoxicated, irate, and striking his front porch with an aluminum baseball bat, refusing to cooperate with law enforcement. It was learned through interviews with other parties involved that there was not probable cause to arrest the male, so the decision was made to clear once the female party left the residence for the night. There were no further issues.
On 11/20/2020, at approximately 2230 hours, Cpl. Duda clocked a vehicle traveling at 104 MPH northbound near mile marker 53. A 17-year-old male operator was summonsed for exceeding the speed limit by 30 MPH or more.
On 11/21/2020, at approximately 0600 hours, Tr. Harakles and Tr. LiBritz received a report of a vehicle all over the road northbound in York. The caller stayed with the vehicle and Tr. LiBritz made contact with it in Scarborough. Upon further investigation it was determined the plates were illegally attached and the driver, Jamison Dominguez (25) of Portland, was suspended out of ME and MA. The vehicle was towed and the driver was summonsed for operating after suspension.
On 11/22/2020, Tr. Keim received a complaint of a vehicle described as a dark colored SUV that threw trash out their window. Tr. Keim saw the vehicle traveling northbound and followed it as it exited at MM 42 in Scarborough. The vehicle was traveling on the ramp at an excessive speed and passed another vehicle on the left as they exited the ramp, so Tr. Keim activated his blue lights in order to stop the vehicle. The vehicle then made a U-turn, went back through the exit 42 toll booth at a high speed, and continued northbound at speeds of approximately 100 MPH as Tr. Keim pursued. The operator shut off their taillights but did have headlights on. Tr. Keim discontinued the pursuit due the erratic driving and an increase in vehicle traffic around MM 46.
Tr. Kristy LiBritz is completing the Fallen Officers 5K/10K/85-mile race challenge. She will be completing all three to honor our fallen heroes. Part of the proceeds go to the C.O.P.S Foundation to support the survivors.
November 16, 2020
Katharine England
On 11/10/2020 Tr. Belanger stopped Latisha Cook (25) of Searsport on Rt. 1A in Winterport for a defective break light. Cook was ultimately arrested on an FTA warrant and charged with OAS.
On 11/11/2020 Cpl. Quintero, Trooper Belanger, and Trooper Webber conducted a probation check on Travor Cannell (26) of Northport at 1 Poors Mills Rd Belfast. Cannell was on probation for Burglary, Robbery, and Drug Possession. Seized from Cannell was 79- 8mg Suboxone strips, a baseball bat used in the above assault, several blunt weapons, 7 bladed weapons, two stun-based weapons, and three replica firearms stored with burglary equipment. Cannell was arrested for possession of Schedule W Drugs and Violating his Probation. 
On 11/13/2020 Tr. Mattson stopped Sara-Kate Leathers (26) on Oak Hill Rd in Swanville for speed.  Sara-Kate initially claimed to have never been issued an operator's license but after running her information it was determined that her license had been suspended.  Sara-Kate was summonsed for Operating after Suspension and directed to park her vehicle and not drive until she obtained a valid license.
 
November 16, 2020
Jennifer Newendyke
On 11/11/2020, Sgt. Burton assisted Cpls. Cropper and Wells (Troop A) with an honorable escort of retired Lt. Trask's hearse from the funeral home in Saco to the cemetery in Portland.
On 11/11/2020, Tr. Keim, Tr. Reaser, Tr. Loder, Lt. Gosselin, and Sgt. Burton assisted the Wells Police Department with a barricaded suicidal subject.  Sgt. Shorey was consulted with several times from the scene as well.
On 11/13/2020, Tr. Darcy stopped a vehicle off the Kennebunk exit after observing the vehicle failing to maintain its lane. The driver of the vehicle fled into the woods. Troopers from Troops G and A responded, as well as Kennebunk PD units. While Troopers were preparing to begin a K9 track with Cpl. Schmidt & K9 Ibo, a Kennebunk PD officer located the male hiding in the woods after utilizing the thermal imager on their cruisers. The male fled on foot and was apprehended by the Kennebunk Officer. As a result, Tr. Darcy arrested Scott York (42) of Hollis for Operating after Revocation and Failing to Submit to Arrest or Detention. He was booked at the York County Jail.
On 11/15/2020, Cpl. Cote investigated a car-deer crash at mile 62 southbound in Gray where the operator fled the scene on foot.  Cpl. Cote ended up stopping a taxi on Portland Road in Gray a short time after the scene was cleared and he found the operator in the back.  He was identified as Ricky Whitney (43) of Warren.  He confessed to being the operator and leaving the scene.  He was charged with Failure to Report Accident by Quickest Means.
Cpl. Physic instructed EVOC this past week that was shut down this past spring due to COVID.
November 10, 2020
Jennifer Newendyke
On 11/03/2020, Tr. Welch stopped Derek J. Lemieux (35) of Biddeford at mile 63 in Gray for an expired registration.  Lemieux was subsequently summonsed for OAS and Operating with a Suspended Registration (Toll Evasion).
On 11/03/2020, Tr. Welch stopped Brady N. Nicholson (32) of Passadumkeag at Mile 66 in New Gloucester for a Suspended Registration (Toll Evasion).  Nicholson was cited accordingly.
On 11/3/2020, a snow squall had gone through the northern end of the Turnpike causing the roads to become wet and icy.  Pike maintenance crews were called out to salt the roadway due to the icy road conditions.  Tr. Davis received a report of a single vehicle into the median guardrail at mile marker 108.  After removing the vehicle from the scene and completing a crash report, Tr. Davis proceeded southbound from exit 109 and observed a crash involving a pickup off the roadway and a tractor trailer jack knifed in the northbound lanes blocking the roadway at mile marker 108.5.  Cpl. Rogers had overheard the crash report and responded from mile marker 111 to assist.  Tr. Davis arrived on scene and met with Cpl. Rogers, who was assisting the driver of the Kris-Way tractor trailer.  The driver had been traveling northbound in the Kris-Way tractor trailer in lane two when he lost control of the vehicle due to the icy roads. The truck crossed from lane two into the median, striking the guardrail.  As the truck returned to the roadway, the rear of his tractor struck a JB Hunt tractor trailer that was traveling northbound in lane two.  The first truck then jackknifed, blocking the roadway. The driver of the JB Hunt truck continued northbound and pulled to the shoulder with disabling damage to the trailer.  A pickup truck had been traveling northbound after the crash and swerved to avoid the tractor trailer and went off the roadway down the grass embankment. The driver of the Kris-Way tractor trailer was transported to Maine General. 
On 11/05/2020, Tr. Keller arrested Richard Gould (54) of Harwich, MA on the ME Turnpike at mile 109 northbound in Augusta resulting from a motor vehicle pursuit that began on the Pike in Sabattus.  Prior to the pursuit, three separate erratic operation complaints were called in on the suspect.  The last one reported that the vehicle went off the roadway and struck a guardrail and then continued on.  The vehicle was spotted by Tr. Kelley in the Sabattus area and he attempted to stop it to no avail.  The pursuit traveled up the Pike and was terminated when vehicle ran over deployed spike mats.  Troop G was assisted by Troopers from Troops B and C.  He was charged with Operating under the Influence, Eluding, Leaving the Scene of a Crash, and Criminal Speed.
On 11/06/2020, Sgt. Porter responded to a modular home almost tipping over in the breakdown lane on I-95 NB in the area of mile marker 63.5. B & B Towing was hauling a modular home when a tire failed on the passenger side of the trailer. The heavy wrecker was towing the modular home that was attached to a trailer with only two axles resting in the middle of the modular home. Both passenger side tires failed on the trailer, and the modular home began to lean over towards the ditch in the breakdown lane. It appears the tires were not weight rated for the load. B & B Towing did their own recovery of the modular home and due to the limits of being over height and not fitting under the overpasses on the Turnpike while on the wrecker, it was brought to Maine Turnpike Authority Gray Maintenance until further arrangements could be made. The driver/owner of the wrecker produced a State of Maine over limit permit as well as an MTA permit to operate on the Maine Turnpike. The MTA permit was purchased at the Rand Road toll. It appears B & B Towing did not follow the route on the permit and may be in violation, which will be followed up on.  Tr. DeGroot from the Commercial MV unit was called out to assist in the investigation. At one point, both NB and SB lanes were shut down to move the modular home through a crossover in order to get it off the roadway. Traffic was affected for about 3 hours. Tr. Parks also assisted on scene.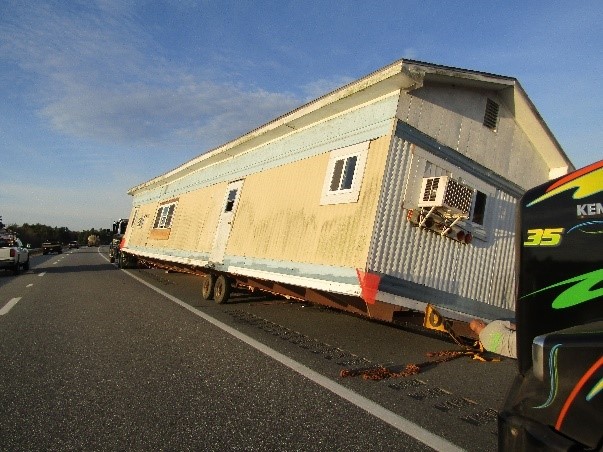 On 11/06/2020, Cpl. Physic attended the Interstate Commission of Juveniles meeting as the law enforcement representative to the council.
Subscribe to Weekly Report