July 7, 2020
Katharine England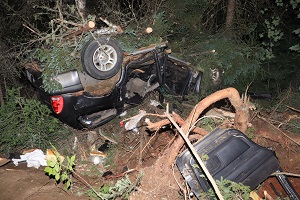 UPDATE (July 9, 2020, 8:18 a.m.): 
The Maine State Police is investigating a fatal car crash that claimed the life of a 35-year-old woman from Lagrange.  At approximately 6:55 p.m., on July 7, 2020, State Police Troopers responded to a single vehicle roll-over crash on the Medford Road in the town of Lagrange.  Investigators learned a 2003 Dodge Durango, operated by 39-year-old Randall Hamm of Lagrange rolled over after he lost control around a corner.  Passenger Desarae Bourgoine was ejected and killed in the crash.  Hamm was extricated by Fire and Rescue personnel and flown to Eastern Maine Medical Center in Bangor.  State Police continue to investigate.  
 
This is the only information available at this time.  
If anybody has information in relation to this please contact Tr. Kurth at 207-973-3700.
The Maine State Police was assisted by the Bradford, Lagrange and Milo Fire Departments, as well as Three Rivers Ambulance and Life Flight.  
 
Maine State Police are investigating a fatal crash that happened in Lagrange. 
On July 7, 2020, at approximately 6:20 p.m., a passerby called Bangor Regional Communication (RCC) and informed dispatchers of a single-vehicle crash on the Medford Road in Lagrange (Near the Brimstone Road). Trooper Kari Kurth arrived on scene to find a Dodge Durango had traveled off the righthand side of the road and rolled onto its roof, trapping the occupants inside. One occupant has died the other has been transported to Northern Light Eastern Maine Medical Center with what are considered non-life-threatening injuries. The names of the occupants will not be released until next of kin can be notified. 
The cause of the crash is under investigation. Bradford Fire, Lagrange Fire, Hudson Fire, Milo Rescue, LifeFlight, all assisted with the extrication and rescue efforts. Sgt. Alden Bustard, Sgt. Jeff Ingemi, and Tpr. Andrew Peirson assisted on scene. 
No further information is available at this time.