September 25, 2020
Katharine England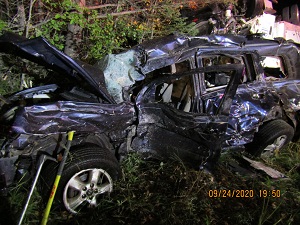 Maine State Police responded to a fatal crash on the Chester/Access Road in Chester on Sept. 24, at approximately 8:15 p.m. 
Tpr. Kari Kurth responded to the scene and as a result of the investigation learned that Christian Dow,51, of Middletown, NY, was driving a Hyundai Santa Fe south on South Chester Road. Dow failed to stop at the intersection of South Chester Road and Access Road, crossing in front of Jeison Arcos, 41, of Newark, NJ, who was driving a Freightliner truck with a passenger, William Arcos, 32, of Newark, NJ, travelling west on the access road. Arcos attempted to avoid the collision, but the front of his truck crashed into the driver's side of Dow's vehicle. The Freightliner overturned onto the left side shoulder. 
Dow was pronounced dead. William Arcos was LifeFlighted to Northern Light Eastern Maine Medical Center, Jeison Arcos was treated for minor injuries at Penobscot Valley Hospital. Dow was not wearing a seatbelt. 
Maine State Police Commercial Vehicle Unit, Lincoln Fire and rescue, Bouchard's Towing and Robinson's Towing, and LifeFlight assisted on scene.