November 25, 2020
Katharine England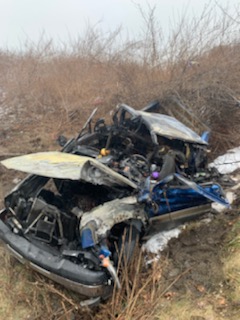 On Wednesday, November 25, at 10:25 a.m., the Maine State Police Troop C responded to a report of a single-vehicle rollover on Interstate 95 in Waterville. On arrival, Troopers learned a blue 2003 Chevy pickup truck was traveling north at mile marker 127 and left the roadway during a snow storm. The vehicle went over the interstate guard rail near the overpass for Kennedy Memorial Drive (KMD) and landed on its roof in the westbound lane of KMD before going over another guardrail. Quickly following the collision the vehicle became engulfed in fire. 
 
The operator Gary Capehart, 71, of Sanford, and his passenger Susan Pope, 63, of Sanford were found deceased in the vehicle when first responders arrived. 
 
Westbound traffic on KMD was closed for approximately 2 hours while the crash was investigated. It is believed that speed, weather conditions, and traffic congestion due to another crash were factors. Prior to the crash Maine DOT was out maintaining the roadways and the advisory warning signs were on warning motorists to reduce their speed to 45-mph.
 
The Maine State Police would like to thank the many agencies that assisted them at the crash scene. The Waterville Police Department, Waterville Fire Department, Oakland Police Department, Oakland Fire Department, Delta Ambulance, the Kennebec County Sheriff's Office, and Ace Towing. 
 
The Maine State Police would like to remind motorists to travel safely this holiday season. Reduce your speeds in inclement weather and abide by the advisory warning signs.