June 14, 2020
Katharine England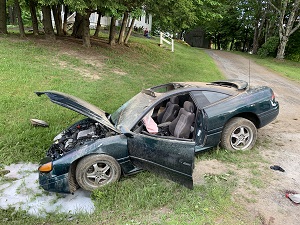 On Sunday, June 14, 2020 at 4:35 pm the Maine State Police received a report of a green sports car with no registration plates failing to maintain its proper lane and driving erratically on Interstate 95 near mile marker 140 south bound in the town of Clinton.
 
A Trooper from Troop C located the vehicle on the interstate in Waterville, and conducted a traffic stop after witnessing the reported erratic operation. Once the vehicle was stopped the Trooper attempted to identify the operator and noticed he was alone in the vehicle. The driver failed to remain at the scene, and a pursuit took place as the vehicle continued to operate erratically. Troopers from Troop D assisted in the pursuit as the vehicle continued south on Interstate 95 into Augusta where the operator exited at mile marker 113 and proceeded east on Route 3. Trooper Mickael Nunez, a 3 year Trooper with the department, was outside of his vehicle as he attempted to deploy a tire deflating spike mat on Route 3 in China when the offending vehicle struck him at a high rate of speed. The offending vehicle then crashed, and the operator was later identified as Robert Belmain (53) of Caribou. Belmain was brought to Central Maine Medical Center in Lewiston for injuries sustained in the crash. Tr. Nunez was brought to Maine General Medical Center in Augusta and is undergoing surgery for a broken leg. He is listed in stable condition.
 
Charges are pending against Robert Belmain for Failure to Maintain Proper Lane, Criminal Speed, Eluding, Failing to Submit to Arrest/Detention, Destruction of Evidence, Reckless Conduct, Operating Under the Influence, Driving to Endanger, Possession of a Scheduled Drug, Sale/Use of Drug Paraphernalia, Operating After Suspension-Habitual Offender and Violating Conditions of Release.
 
Our thoughts and prayers are with Tr. Nunez and his family for a speedy recovery.