March 30, 2020
Katharine England
On 03/23/2020, Tr. Duda responded to a single vehicle crash near mile marker 36 sb. The vehicle, driven by Sonia Castro Echaiz (39) of Sanford was traveling southbound at high speed and in inclement weather when she lost control of her vehicle, and slammed into trees. She was taken to Maine Medical Center for injuries sustained from the crash. 
On 03/23/2020, Tr. Duda responded to a single vehicle slide off at mile 32 northbound. The vehicle slid off into the ditch near mile 32 north bound during inclement weather. The vehicle did not sustain any damage and was towed back onto the roadway. The operator, Paulo Gomes Pinto (54) of Framingham, Massachusetts failed to turn his lights back on, and then drive across three lanes of traffic and was hit broad side by a Hannaford tractor trailer. Pinto was transported to Southern Maine Healthcare with non-life threatening injuries.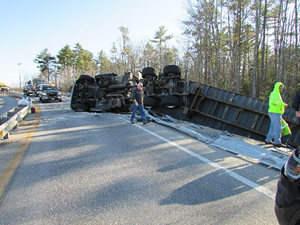 On 03/26/2020, Tr. Duda responded to a roll over crash on the exit 42 departure ramp. Trooper Duda arrived on scene and observed that an R.C. Moore tractor trailer failed to negotiate the curve and rolled over into the ditch. The cab of the truck was sliced through by the guard rail. The operator, Robert Skidgel (75) of Saco was able to walk away from the crash. The truck was hauling a load of French fries. Speed appears to have been a factor in the crash. Multiple units assisted at the scene. 

On 03/26/2020 Lt. Baker stopped Adam Dugal (38) of Bowdoin for traveling 102 MPH in a 65 MPH zone.  Lt. Baker was traveling south on I295 in Freeport at the time.  Dugal was summons accordingly.