March 17, 2020
Katharine England
Tpr. Welch stopped Hannah Dascanio (20) of Portland for criminal speed, 115mph in a 70mph zone, on the turnpike in Scarborough at Mile 42 northbound.
Tpr. Libritz stopped Jason Goan (34) of Parsonsfield for a vehicle defect. Goan's license status was suspended for OUI and an unpaid fine. Tpr. Libritz summonsed Goan for OAS and a licensed passenger drove from the scene.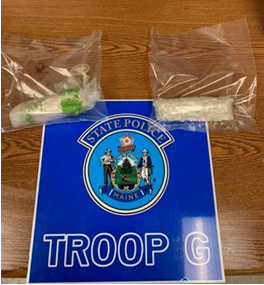 Tpr. Darcy stopped a vehicle northbound on the turnpike in York. The roadside investigation led to the discovery of 217 grams of crack cocaine. As a result, Tanjia Moore (25) of Brooklyn, NY and a juvenile from Bronx, NY were both charged with Aggravated Trafficking Schedule W Drugs. Sgt. Porter and Cpl. Schmidt (Troop A) assisted.
 
On 03/09/2020 Tr. Steven Stubbs arrested Abdirahman Dahir Hassan (34) from Massachusetts for OUI.  Multiple reports had come into the Augusta RCC of poor operation.  Tr. Stubbs was able to locate the vehicle.  Hassan blew above the legal limit.