April 8, 2021
Katharine England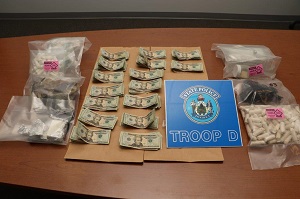 A vehicle defect led to felony drug trafficking charges in Augusta.
 
On April 5, 2021, at approximately 11:30 p.m., Tr. Tyler Harrington stopped a vehicle for operation and a vehicle defect on I-95 in Augusta near mile marker 109 northbound. A narcotics K9 was called to assist with the investigation and as a result of the investigation, approximately 1.5 Kilos of Fentanyl and $3,200 in cash were seized as evidence. Kristopher Churchill, 38, of Bradford, Maine, and Erick Mejia, 26, of Lawrence, Mass., were arrested with Class A Trafficking Fentanyl. Bail was set at $75,000 each. 
Cpl. Record, K9 Tess, Tr. Bronson, Tr. Roddy, Recruit Bachelder assisted with the investigation.