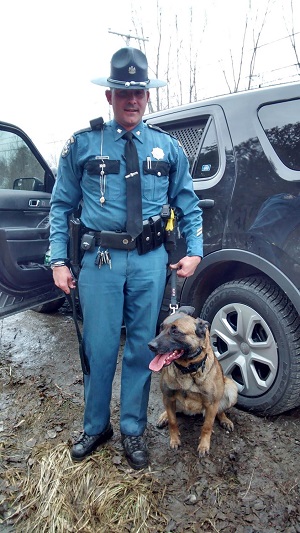 Maine State Police K9 Team assists Penobscot County Sheriff's Office locate burglary suspects in Carmel.
On March, 19, 2020,  Trooper Jeremey Caron and Trooper Adam Gould with his K9 partner Keet responded to Route 2 in Carmel, where the PSCO were investigating a burglary where the two subjects had fled into the woods. K9 Keet picked up the track and proceeded 1.2 miles through woods and steep terrain before locating Joshua Smock, 41, of Charleston.
The second man, Fred Mason, 40, of Levant, was located by Penobscot County Deputies walking along Route 2. 

Both individuals were arrested by Penobscot County Sheriff's Office for burglary and taken to Penobscot County Jail.
Photos courtesy of Penobscot County Sheriff's Office.