January 13, 2021
Katharine England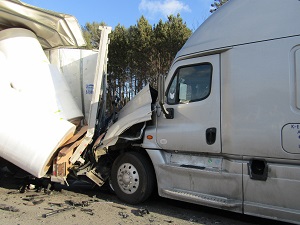 Maine State Police have learned that two people died in the crash that occurred on Jan. 12, 2021.
 As a result of reconstruction and investigative efforts, police learned that a major police incident that was being investigated on the southbound side of I-95 caused traffic to slow on the northbound side. A Freightliner tractor-trailer loaded with large paper rolls being driven by Lakhveer Gill, 40, of Brantford, Ontario was traveling north, behind him was a 2014 Lexus RX230, driven by Geoffrey Gattis, 68, with his wife Elizabeth Gattis, 68, in the passenger seat, both of Falmouth. Both vehicles had slowed down, when an unloaded tractor-trailer driven by David Herring, 38, of South Portland, failed to recognize traffic had slowed and struck the Lexus from behind. The force of the impact pushed the car into the back of the first tractor-trailer, crushing the smaller vehicle. Both occupants were found deceased.
The investigation is ongoing. Speed and alcohol do not appear to be factors. Once the investigation is complete, it will be reviewed by the York District Attorney's Office.