August 5, 2020
Katharine England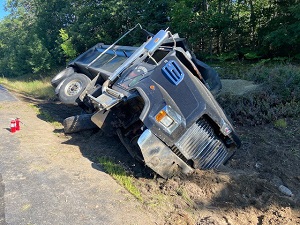 A Belmont man was killed after his vehicle crossed the center line and collided with an oncoming dump truck.
On Aug. 5, 2020, at approximately 7:48 a.m., Maine State Police responded to a fatal motor vehicle crash on route 3 in Morrill.  The investigation revealed that Nicholas Day, 34, from Belmont, was traveling west on route 3 and crossed the center line into an oncoming loaded dump truck.  Day was determined to be deceased on scene.  
The operator of the dump truck was a Eugene Hyde, 31,   from Wilton, owned and operated by C.H Stevenson out of Wayne Maine.  The investigation is still on going, speed and alcohol did not appear to be a factor.   
Route 3 was shut down for 8hrs.  Local fire departments assisted with traffic being rerouted.