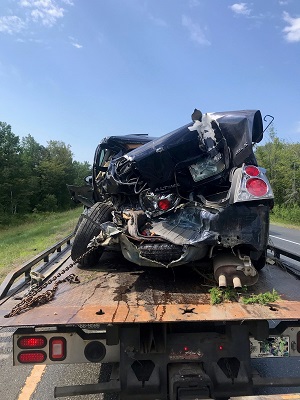 From the desk of Shannon Moss, DPS PIO
On Saturday, August 14, 2021, at approximately 8:45 hours a.m. State Troopers from Troop C responded to a report of a two-vehicle crash on I-95 in the town of Pittsfield. The preliminary investigation reveals that a 2005 Nissan Altima driven by 28-year-old Kaitlyn Hawkes of Eastport and her passenger, 33-year-old Tiffany Bowen of Pembroke were southbound in the travel lane when Hawkes tried to change directions north. Hawkes attempted to use the crossover and entered the passing lane to do so. At that point, a truck driven by 32-year-old Richard Pillsbury of Winslow was driving in the passing lane and was unable to avoid hitting Hawkes' vehicle. 
Hawkes was transported to Sebasticook Valley Hospital with non-life-threatening injuries. Bowen was life-flighted to Eastern Maine Medical Center in Bangor with serious but non-life-threatening injuries. Pillsbury was uninjured in the crash. 
Hawkes has been charged with Aggravated Driving to Endanger and Operating with an Expired License. 
Anyone that witnessed the crash is urged to contact the Maine State Police and speak with Trooper Garret Booth. 
As Troopers continue to investigate the crash, we would like to remind motorists that using crossovers is not permitted for any reason whatsoever and is highly dangerous to everyone driving on the interstate. Please drive responsibly and if you miss your exit, proceed to the next off-ramp and reroute yourself to get to your destination safely.