May 19, 2021
Katharine England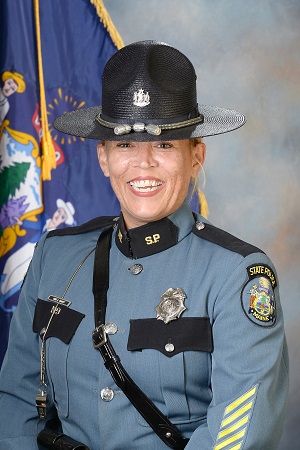 Recently, the State Police Merit and Citation Board has selected Detective Abbe Chabot of Major Crimes Unit South as the 2020 Maine State Police Trooper of the Year.  
Detective Abbe Chabot of Major Crimes Unit-South joined the State Police on July 13, 1997 as a member of the 45th Recruit Training Troop.  Detective Chabot is a graduate of Grafton High School in Grafton, Massachusetts and Norwich University in Vermont where she majored in both Criminal Justice and English. She graduated as a Lieutenant in the Corps of Cadets in 1996. 
Detective Chabot lives in the Town of Greene with her husband David and 15-year-old daughter Lily. 
Detective Chabot began her career as a Trooper in Troop B from 1997 to 2003 and was assigned to Androscoggin County.  Detective Chabot was promoted to Detective in CID-2 (Major Crimes Unit-Central) in 2003 where she worked until 2016.  
In 2016, Detective Chabot joined the Computer Crimes Unit as a detective where she followed-up on the most heinous of crime reports involving internet crimes against children (ICAC). She was primary on child exploitation and child solicitation online cases. Her job was to leverage forensic data to prove certain elements of a criminal event. Detective's Chabot's unique skillset of remarkable interview and interrogation skills, familiarity with both physical and testimonial evidence, ability to navigate through the court system and prosecutor's offices and knowledge of how to build a criminal case made her a valued asset for the unit. One of the highlights of her tenure with ICAC was her community outreach. As a member of the ICAC team, there is a significant responsibility to participate in community outreach in the form of education and prevention. Each time Detective Chabot would go out into the community and speak it would produce two or three more requests from other schools or victim advocate groups. 
 
Detective Chabot rejoined Major Crimes Unit – South in late 2019 where she has been a tremendous influence and positive example to new detectives. 
In 2020, Detective Chabot was assigned as the primary Detective in the Roger Cornell homicide in Lewiston on July 29.  The suspect, Trai Larue, was arrested and is awaiting trial.  A few weeks later on August 21, Detective Chabot was assigned as the primary Detective in the Natasha Morgan homicide in Lewiston.  The suspect, Jaquille Coleman, was arrested and is awaiting trial.  
Lt. Scott Gosselin stated in his nomination, "Detective Chabot's work on these cases has been tremendous. She is a very diligent worker and very conscientious of the work she produces all the while recognizing that her work product represents the excellent standard and reputation of the Maine State Police."
In addition to her primary duties, Detective Chabot has been a K-9 handler since 2000 when she worked with her first patrol dog, Tango for many years. Since 2012, Detective Chabot has been a certified human remains recovery team with her dogs with a multi-state response in wilderness cadaver, crime scene cadaver and water cadaver. In 2013 Detective Chabot was identified as K-9 handler of the year with one of her dogs, Pivot. Since the K9 cadaver program started in 2012, Detective Chabot's cadaver K9's Pivot and Steve have collectively assisted in the recovery of almost three dozen murder victims, lost persons or suicide victims.
Thank Det. Chabot for your tireless dedication to the Maine State Police and citizens of Maine.