November 10, 2020
Katharine England
The Maine State Police typically hold their annual awards ceremony over the summer. With this year being anything but typical, like many similar events, the awards ceremony was canceled due to COVID-19 precautions. Instead, Col. John Cote personally visited as many of the award recipients as possible to recognize them for their incredible service. Here are a few of their stories.
From Col. John Cote:
Each year the State Police Merit & Citation Board receives numerous requests to formally recognize our members and those in the general public who have gone above and beyond resulting in positive impacts on our communities and citizens.  The board sets aside many submissions and presents awards only to those who are most deserving and engaged in both heroic and valiant efforts.  The fact that we were not able to publicly honor these recipients takes nothing away from the significance of their outstanding efforts.
The Trooper of the Year is among the most coveted awards and is selected after each troop or unit selects a nominee to compete for the statewide award.  This group represents the best, brightest and most professional members within our ranks.  The member selected as the Trooper of the Year must meet several criteria based on meritorious service to the citizens of Maine, bravery, solving crime, combating drug problems, social service, and upholding the core values of INTEGRITY, FAIRNESS, COMPASSION, and EXCELLENCE as their guide as they strive to set the example for all to follow.
The Legendary Trooper is the highest honor that can be bestowed on a member.  Selected from a group nominated by retired members, the award recognizes the winner as a member whose outstanding contributions were consistent and significant during their years of service and continue to have an impact on our agency today.
Trooper of the Year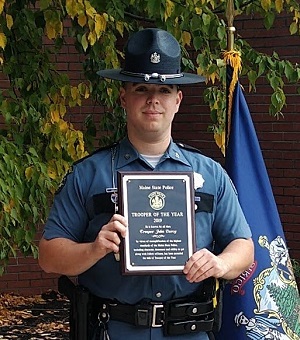 Trooper John Darcy
Trooper John Darcy from Troop G was named the 2019 Maine State Police Trooper of the Year.
Trooper Darcy joined the State Police in 2013 and graduated from the 65th Recruit Training Troop. He has served in Troop F, A, and G. He was previously nominated for Trooper of the Year in 2015 (Troop F) and 2018 (Troop G).
Tpr. Darcy is an active member of the Pro-Active Criminal Enforcement (PACE) Team, a Field Training Officer, and instructed at the Junior Trooper Academy. Tpr. Darcy designed and taught a block of instruction on gangs to the recruit Training Troop (RTT) which was adopted into the curriculum for every new member of the State Police. He also volunteers and participates in a powerlifting competition centered around his neighborhood community in York County. The competition raises money and gifts for Toys for Tots.
Other nominees: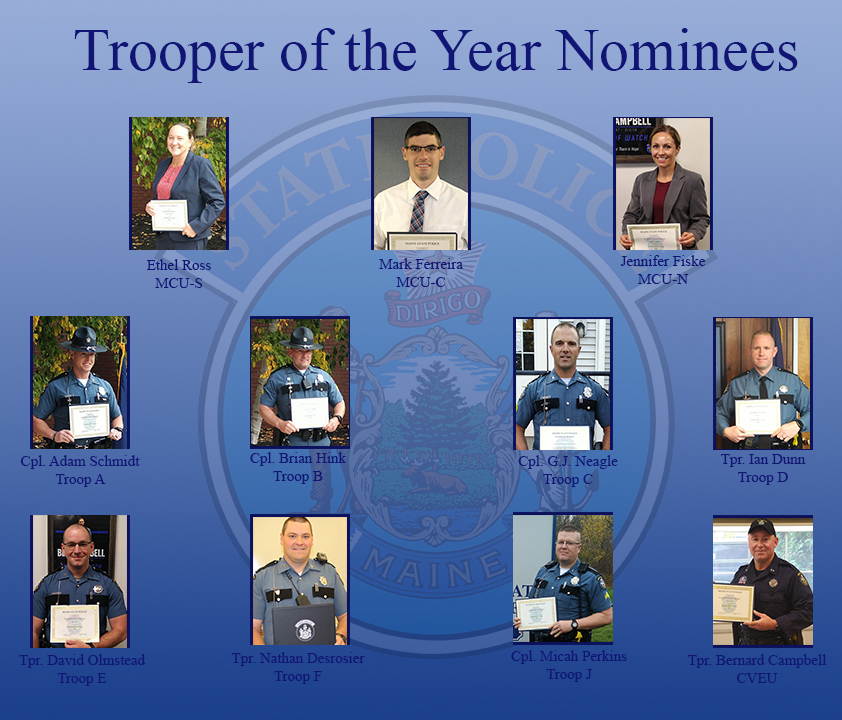 Legendary Trooper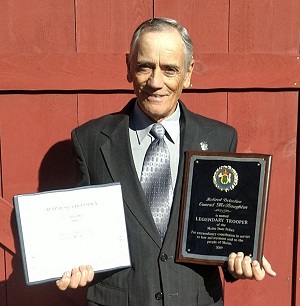 Conrad McNaughton
The 2019 selection for Legendary Trooper is Retired, Detective Conrad McNaughton. McNaughton joined the State Police in 1973 as a member of the 30th Training Troop. He served in Troops B and D, as well as with the State Police Intelligence Unit. McNaughton was a cadre for the 34th Training Troop. He was twice nominated for Trooper of the Year (1976 and 1982). He was also a founding member of the State Police Underwater Recovery Team. He participated in many of the major events in our agency's history including the State Prison lock-down in 1980 and the Seabrook New Hampshire powerplant protests in 1977. Det. McNaughton was widely known for his outstanding work ethic and determination. His son, Adam McNaughton, currently serves as a Troop Investigator in Troop D.
Meritorious Service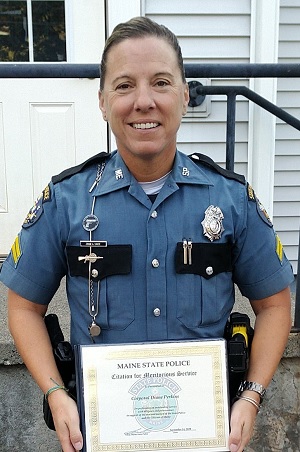 Cpl. Diane Vance
On Dec. 23, 2019, Cpl. Diane Vance responded to a single-vehicle rollover crash on I-95 in Sidney.
The operator was trapped after the vehicle sustained massive damage and came to rest on its roof against a concrete bridge. The driver suffered serious injuries. Cpl. Vance applied a tourniquet to her leg to stop the bleeding and rendered medical care prior to and after paramedics arrived. Cpl. Vance also provided psychological comfort to the patient and appropriately notified the next of kin who lived out of state. Following the crash, Cpl. Vance drove to a hospital outside of the Troop on her days off to meet with the crash victim.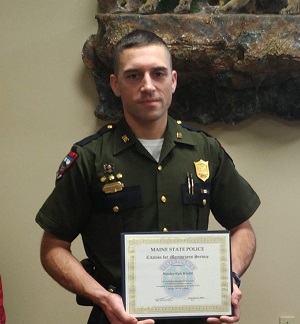 Warden Kyle Hladiks
For his efforts to save the life of a hunter that had unintentionally inflicted what ultimately turned out to be a fatal gunshot wound in Eustice.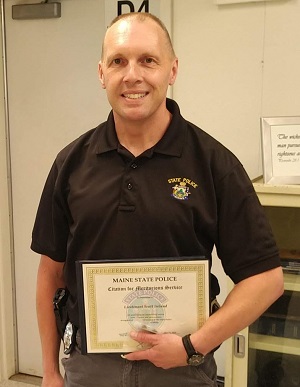 Lt. Scott Ireland
On Feb. 13, 2020, a house fire occurred on the Hussey Hill Rd in Vassalboro. Lt Scott Ireland overheard the radio traffic while on his way home and responded to the scene near his home. Lt Ireland arrived before the fire department and learned that a man was still inside the residence. Lt Ireland, without regard for his personal safety, entered the house and located the man unconscious on the floor. Unable to revive the man, Lt Ireland worked with others to carry him from the house and perform CPR until fire and EMS crews arrived. Although the man did not survive his injuries, Lt Ireland's selfless act of courage provided every opportunity for medical intervention and certainly prevented the man's mother and caretaker from re-entering the house for her son. 
Bravery Awards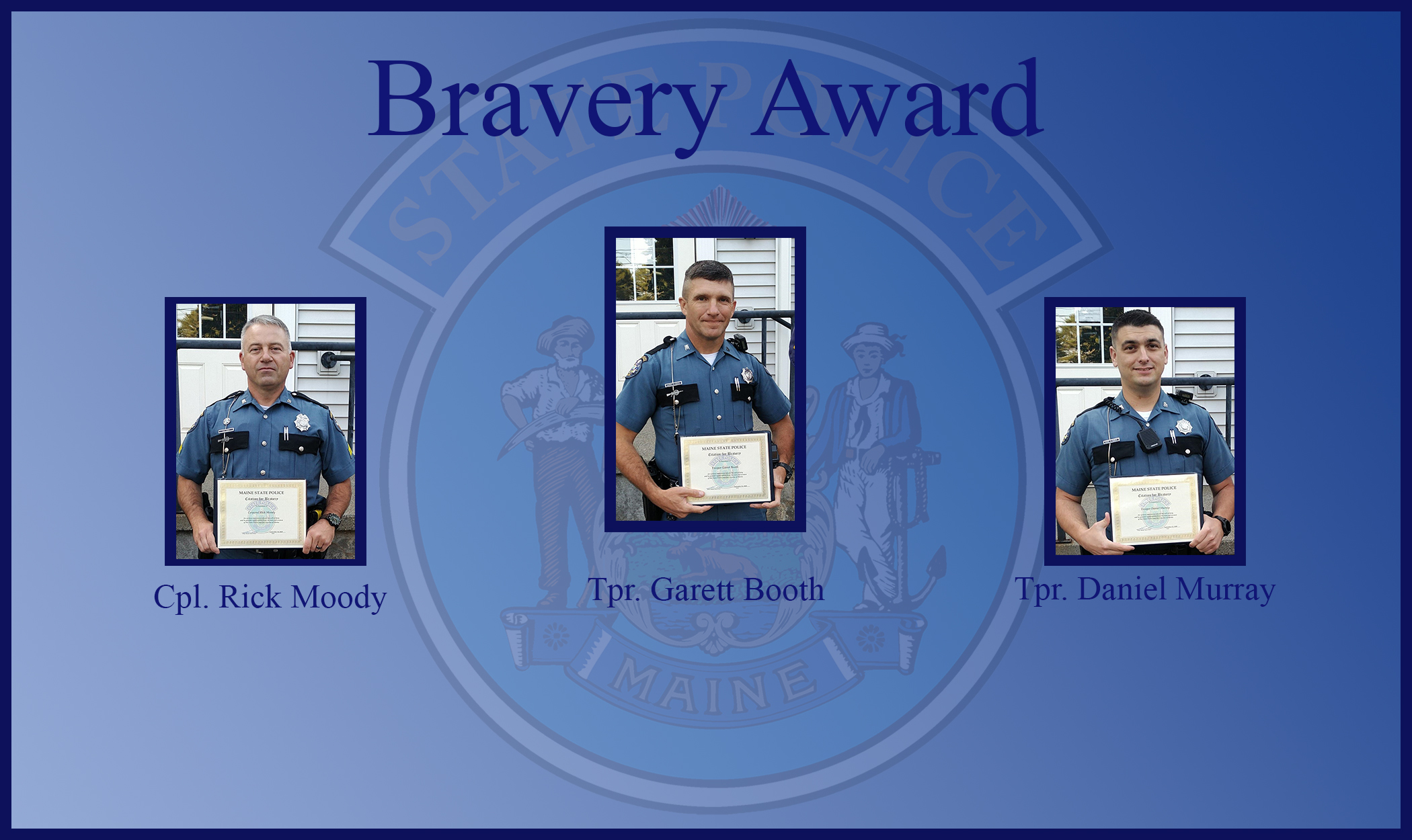 Cpl. Rick Moody
Tr. Eric Sucy *
Tr. Garret Booth
Tr. Daniel Murray
SA Ken MacMaster (Senior Fire Investigator, Maine State Fire Marshal)*
(*Not Pictured)
These five people were nominated for a Bravery Award for their courageous actions during a pursuit of an armed felon who had already shot a Waterville Police Officer.
On Dec. 22, 2019, Cpl. Rick Moody, Tr. Eric Sucy, Tr. Garret Booth, Tr. Daniel Murray and Fire Marshal Ken MacMaster assisted the Waterville Police Department with a high-speed chase after Waterville Police Officer Timothy Hinton was shot twice while attempting to stop the vehicle.
Officers engaged in the pursuit in the town of Fairfield. The pursuit continued over several miles into the town of Canaan. During the pursuit, officers took heavy gunfire at several different locations from Richard Murray-Burns, (29 of Hartland). State Police cruisers sustained damage from the suspects' gunfire; however, officers continued the pursuit in their efforts to apprehend a dangerous person and protect the public with unselfish regard to their own safety.
The officers' unselfish efforts came to fruition on Route 23 near the intersection of Route 2 in the town of Canaan when Troopers shot and incapacitated Burns, ending his tyranny of violence. The Troopers' heroism continued as they transitioned into and administered life-saving measures to Burns.
Tact Team Call in Millinocket
Members of the Maine State Police Tactical Team were given a bravery award for their actions earlier this year in Millinocket. The Maine State Police Tactical Team responded to a residence for a reported shooting and hostage incident. The team were able to locate the hostages and remove them safely, as well as disarm and take the hostage-taker into custody.
Colonel's Awards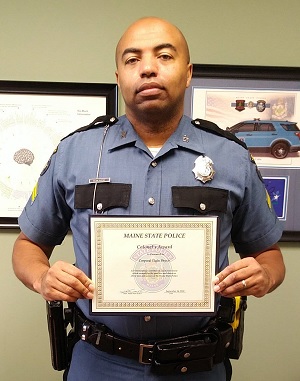 Cpl. Elgin Physic
Tpr. Physic is being nominated for the Colonel's Award for his many and varied service efforts to the Maine State Police and the Citizens of Maine. Tpr. Physic expanded his already considerable efforts toward service in 2019, both on and off duty, and maintained his status as one of the top performers in OUI enforcement in the agency.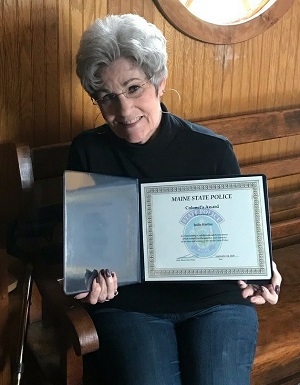 Judie Hartley
Widow of retired Cpl. Darrell Hartley, Judie Hartley was nominated for a Colonel's award for her many artistic contributions to the Maine State Police. She created and drew the generational set of six Troopers standing by their vehicles. Sets of this artwork hang in not only many Maine State Police barracks but in many homes of Troopers and support staff.
More importantly, Judie has held the responsibility of drawing the Fallen Heroes of the Maine State Police. Anyone who has visited our Fallen Heroes Conference Room at Headquarters at 45 Commerce Drive will have seen her hand-drawn portraits of every one of our fallen Troopers.
Most recently she completed a portrait of Detective Benjamin Campbell. 
Pipes and Drums Unit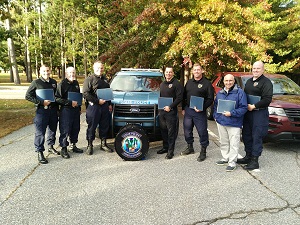 The Maine State Police Pipe and Drum Unit have been a consistent representation of departmental pride and esprit de corps since its first public performance in 1998. The Unit first performed at the graduation ceremony for the 45th Training Troop in 1998. Since then they have performed at over 28 State Police Academy Graduations in addition to over 37 Basic Law Enforcement Training Program Graduations. In 2011 and 2019 the Pipe and Drum Unit had the honor of leading Governor Paul Lepage and Governor Janet Mill into their respective Inauguration Ceremonies. The Pipe and Drum Unit regularly performs at parades, civic events, memorial services, and funerals.
Current membership in the unit includes sworn personnel ranging in rank from Trooper to Lieutenant.
Members also include a retired Trooper and a municipal police officer. The unit is also grateful for assistance from civilian subject matter experts who provide instruction in both the piping and drumming disciplines.
Current Membership:
Lt. Scott Gosselin

Mr. Jay Bradshaw

Lt. Patrick Hood (Snare Drum)

Sgt. Kristopher Kennedy (Bass Drum)

Tpr. Joseph Parker (Bagpipes)

Tpr. Forrest Simpson (Bagpipes)

(Ret.) Tpr. Gerald LaPointe (Tenor Drum)

Officer Alec Thompson- Biddeford Police Department (Bag Pipes)

Mr. Alan Gregory – Maine Criminal Justice Academy Staff (Snare Drum)

Mr. Steve Lemieux- Bureau of Consumer Credit (Bagpipes/ Instructor)

Mr. Daniel Bernardini (Snare Drum / Instructor)
Special Award Commendation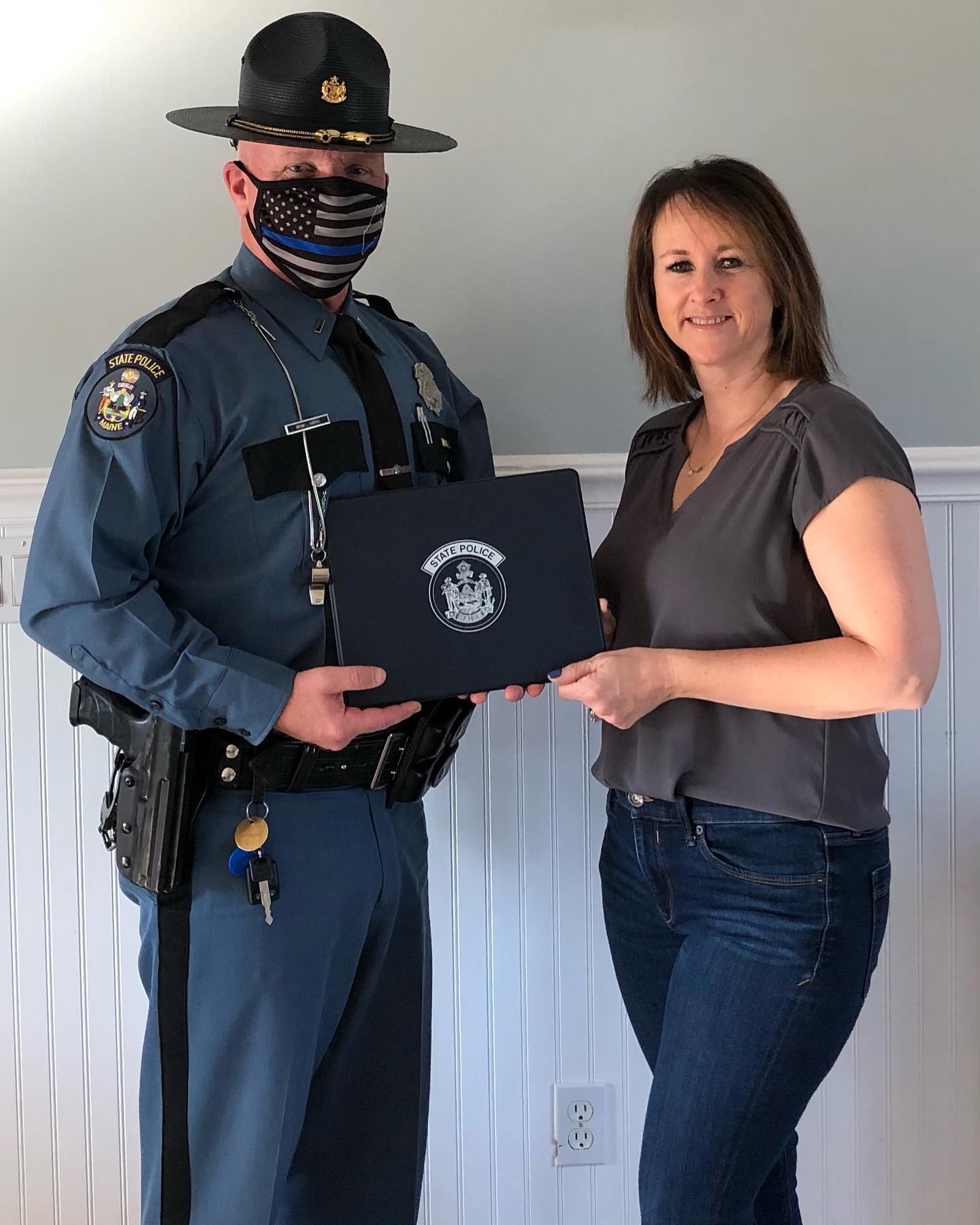 Janice LaBrie- St. Agatha
Janice LaBrie was nominated for the award earlier this year after an incident in December 2019. A local resident had been walking on the road when he collapsed from an apparent heart attack. Janice, who is also a nurse, happened to be driving through the area and saw the man in distress and stopped to help. Janice immediately recognized the man was not breathing and began life-saving CPR, resuscitating the man. Janice's quick thinking and decisive actions were instrumental in saving the man's life as she and responding Troopers performed CPR until the ambulance arrived. The man survived this incident solely on the actions and quick thinking of Janice.
And Janice didn't stop there, after the incident, realizing that others knowing CPR could help in a similar situation, she arranged training for locals in CPR in hopes that in another situation like this, there would be someone that could help just like she did. Thankfully on that fateful day, Janice was in the right place at the right time.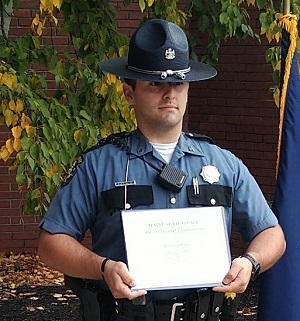 Tr. Ryan Phillips – Turner
On Feb. 16, 2020, Trooper Ryan Phillips arrived to a scene in Turner where a man was in medical crisis. Without second thought, he assisted EMS services by providing life-saving compressions and other resuscitation efforts, which ultimately helped save the life of the man.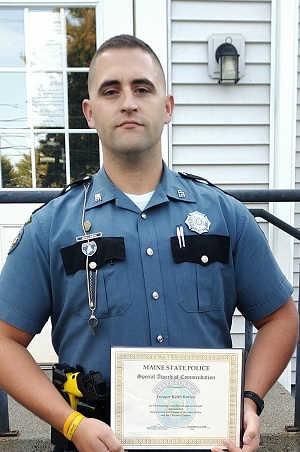 Tpr. Keith Barton
Tpr. Randy Hall*
East Eustis Hunting Accident
For their efforts to save the life of a hunter that had unintentionally inflicted what ultimately turned out to be a fatal gunshot wound. 
*(No Photo Available)