On 08/03/2021, Tr. Darcy stopped a vehicle northbound on the turnpike in York during the morning commute traveling 95 MPH. The driver had a PR bail warrant out of York County for Misuse of Identification. Arrangements were made to meet a bail commissioner in Saco where the male made bail. He was issued a VSAC for the speed.
On 08/03/2021, Cpl. Cote stopped Anthony Lightfoot (61) of Providence, RI on the ME Turnpike northbound in Portland.  He did not have a license.  He was charged with Operating Without a License and his vehicle was towed away.
On 08/04/2021, at approximately 0040 hours, Tr. LiBritz received a report of a wrecker driver out with a crash at the mile 44 southbound on-ramp and it appeared the male was intoxicated. Upon further investigation, Tr. LiBritz arrested Timothy Mitchell (31) of Saco for operating under the influence and he was issued a summons. Sgt. Wilkinson and Tr. Darcy assisted. Tr. Bourdelais completed the crash report.
Cpl. Ricci A. Cote is investigating a fatal motor vehicle crash that occurred on 08/05/2021 at 0037 hours on the ME Turnpike southbound at mile 2 in Kittery by the Wilson Road overpass involving a passenger car and a tractor trailer truck.  The car involved was a silver 2016 Chevrolet Malibu, driven by 29-year-old Caleb Ewing of Caribou, and the tractor trailer was owned and operated by 46-year-old Joshua Stone of Auburn.  Ewing died at the scene and Stone was uninjured.  Both vehicles sustained extensive damage.  It is believed that Ewing entered on to the turnpike in Kittery and traveled in the wrong direction going northbound in the southbound lane.  Stone and his tractor trailer truck, which was hauling bottled water at the time, were traveling southbound and took evasive action upon spotting Ewing but could not avoid the collision.  Ewing struck the side of the tractor trailer truck rupturing the fuel tank which caused diesel fuel to spew out onto the roadway.  The turnpike was shut down to one lane for hours while police investigated, and crews worked to remove the vehicles and get the roadways clear to be open back up.  The investigation is ongoing.  It is unclear at this time if speed and alcohol were contributing factors.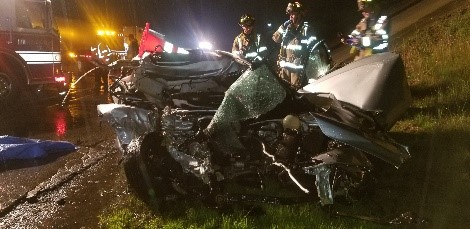 On 08/05/2021, Cpl. Cropper stopped a vehicle for criminal speed (100/60) northbound in Portland. Samantha Caramihalis (29) of Alfred was summonsed.
On 08/05/2021, Cpl. Cote stopped David Broncati (21) of Norwalk, CT on the ME Turnpike southbound in Ogunquit.  He was charged with Criminal Speed for traveling 103 MPH.
On 08/07/2021, Cpl. Cropper stopped a motorcycle for criminal speed (108/70) northbound in Gray. Joseph C. Kosnow II (43) of Lewiston was summonsed.
On 08/08/2021, at 0140 hours, Tr. LiBritz responded to a crash in the area of mile 42 southbound in Scarborough. When she arrived on scene, it was determined the driver, Christopher Maksut (28) of Saco, was operating under the influence and he was transported to Maine Medical Center to be evaluated.   Based on his injures, a blood tech was requested. Maksut was summoned for operating under the influence and violation of conditional release.
On 08/08/2021, Tr. Loder responded to a motor vehicle crash at the Arundel/Kennebunk line to find a gray Audi had gone off the road and struck an "Emergency Stopping Only" sign.  The operator, John Wilkinson (59) of Cape Neddick, was arrested for OUI-Liquor.  Tr. D'Angelo assisted.