June 8, 2021
Jennifer Newendyke
On 05/31/2021, Tr. Darcy charged Isabella Tynski (22) of CT with OAS after investigating a two-vehicle crash southbound on the turnpike in York.
On 06/01/2021, Cpl. Cropper stopped a vehicle for criminal speed, 116/70, northbound in Kennebunk. Keith McNeff (28) of Biddeford was summonsed and PR bailed from the scene.
On 06/01/2021, Tr. Darcy stopped to check on a vehicle in Kittery in the breakdown lane with its hazards on and passenger side door open. Upon contact with the occupants, Tr. Darcy learned that an adult female was having an epileptic seizure and was vomiting. Rescue was started and the female eventually was signed off as she was feeling better.  
On 06/03/2021, Lt. Baker stopped Ambrosia Yankowsky of Pittsfield for 109 MPH in a 70 MPH zone northbound in Litchfield. She was cited appropriately.
On 06/04/2021, Tr. Vanadestine received a call via Augusta RCC to watch for a black GMC truck operating erratically southbound from the Auburn area.  Tr. Vanadestine was stationary at MM 66 and located the truck.  The Black GMC registration matched the one given by the caller and was swerving at varying speeds down to 40 MPH.  The operator, Ryan Perry of Portland, had two active warrants and was intoxicated.  Perry was arrested and transported to CCJ.
On 06/05/2021, Tr. Loder arrested Kevin Speghezzi (28) of Biddeford for OUI & Leaving the Scene of a Property Damage Accident.  Speghezzi  crashed into a guardrail endcap at the top of the Exit 36 entrance ramp, causing extensive damage including a shredded rear tire.  Speghezzi then left the scene and was eventually tracked down in a parking lot off Exit 42.  He submitted to a breath test which indicated his BAC was substantially higher than the legal limit.  Sgt. Pappas and Scarborough Police assisted with the investigation.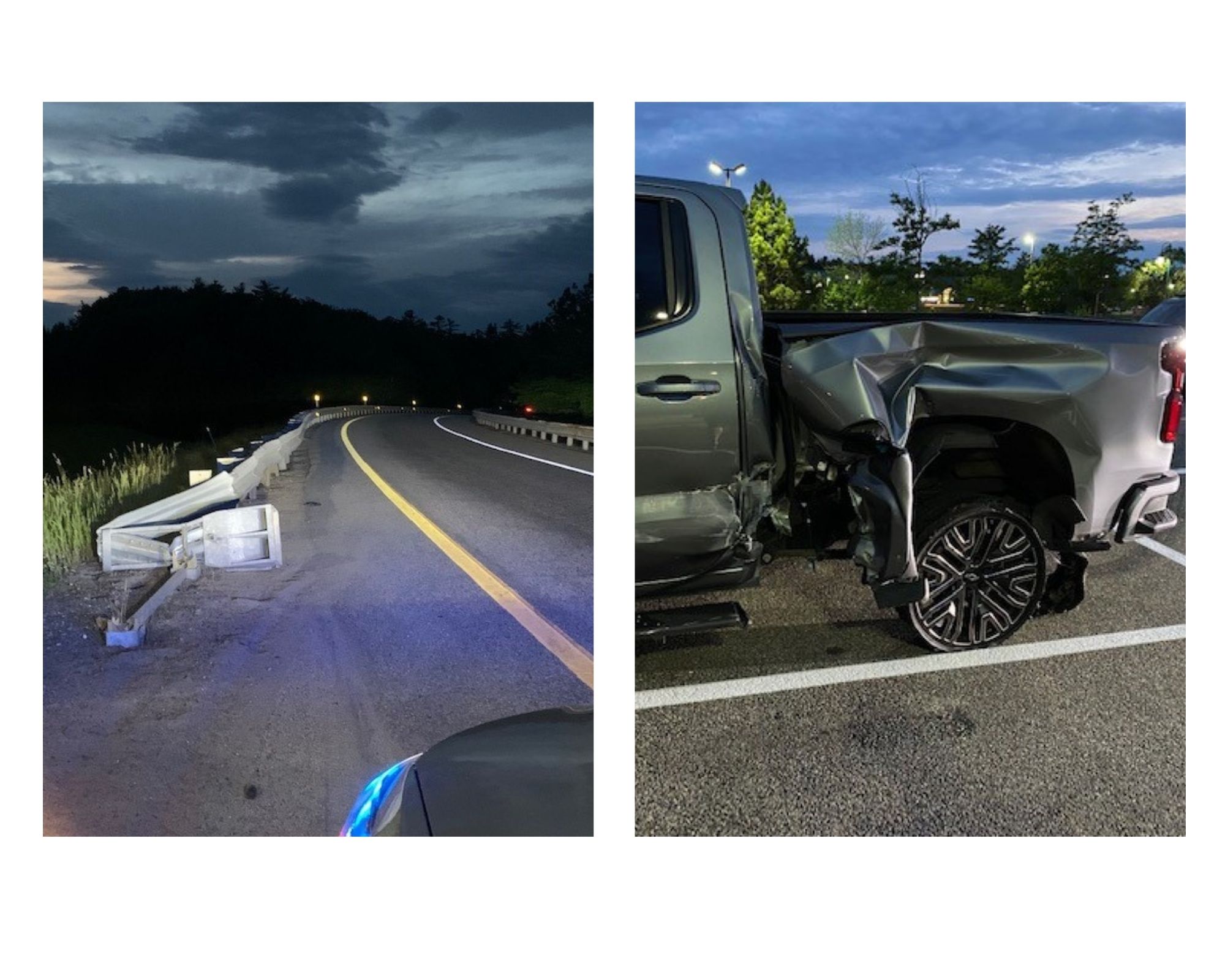 On 06/05/2021, Cpl. Physic and Tr. LiBritz responded to a male walking on the side of Turnpike at MM 45.  After attempting several de-escalation attempts,  the male still refused to leave the Turnpike.  The male was detained and Cpl. Physic transported him to Maine Medical Center.
On 06/05/2021, Cpl. Physic assisted Sgt. Pappas with a crash at MM 67 that blocked the roadway.
On 06/06/2021, Cpl. Cropper stopped a vehicle NB in Biddeford for speeding. The operator of the vehicle, Matthew Britton (31) of Hallowell, was arrested on a warrant for FTA-Criminal Mischief out of Hallowell PD.
On 06/06/2021, Sgt. Pappas and Tr. Darcy responded to a call northbound on the turnpike in Wells in which a male was having a mental health crisis and believed he was being chased. The male continued to call 911 and was running through the woods. He eventually came out in a campground in Wells where Wells PD located him. He was taken to the hospital for an evaluation.
On 06/07/2021, Sgt. Wilkinson, Cpl. Cropper, Tr. Vanadestine, and Tr. Davis responded to a two-vehicle crash southbound at exit 42. A BMW, driven by Justine Meyer (22) of Norton, MA, sideswiped a Chrysler minivan, sending it into a guardrail end and then into the wood line. Meyer's vehicle flipped over onto its roof and continued to slide southbound and into the guardrail. The BMW caught fire and eventually became fully engulfed. Three people were transported to area hospitals although there were no major injuries. Cpl. Cropper summonsed Meyer for OUI-Alcohol and Driving to Endanger. Results are pending from a blood alcohol kit.