On 02/01/2021, Augusta RCC received two calls on an erratic operation/road rage complaint northbound on the Turnpike in Litchfield.  Tr. Vanadestine responded to the West Gardiner service plaza at MM 102 to meet with one caller, the male operator of a Ford F-150 with two passengers, who claimed he had been assaulted and his truck vandalized.  Cpl. Cote responded to MM 98 to meet with the other callers in a black passenger car.  Both vehicles were traveling north on the Turnpike when the road rage incident occurred.  The operator of the pickup pulled over to let the other vehicle pass by, but instead the black car pulled over behind the pickup. The male operator, Karlos Quile (19), and the female passenger, Xiomara Sarmiento (29), both of Lewiston, exited the black car and started fighting with the occupants of the pickup, threatening the operator with a knife and damaging his vehicle.  Quile was arrested for assault and violating conditions of release, and Sarmiento was summonsed for assault.  A referral to DHHS was made as they had a young child in the backseat.
On 02/02/2021, Tr. Keim covered a property damage crash involving a jack-knifed tractor trailer in the median on I-95 NB at mile marker 36. The TT unit blocked lanes 1 and 2 for several hours. Tr. Northrup assisted on scene.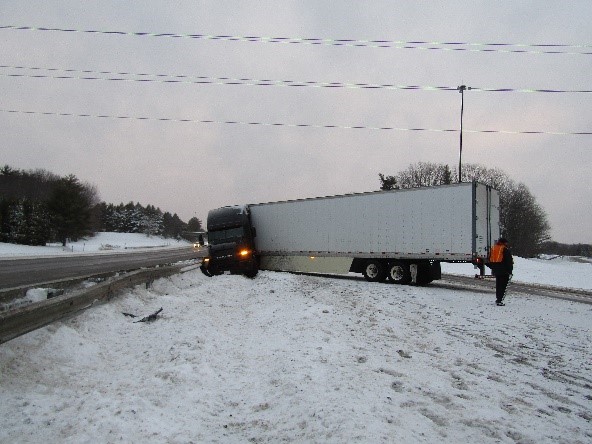 On 02/02/2021, Tr. MacKinnon covered a property damage crash involving a tractor trailer truck in the median on I-95 NB at mile marker 16. The TT unit crash took most of the night to clean up. Tr. Loder assisted on scene.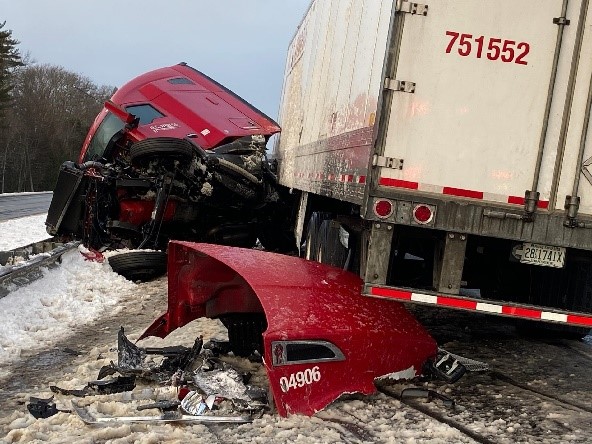 On 02/06/2021, Sgts Pappas and Wilkinson, in addition to Troopers D'Angelo and Keim and two Wells Police Officers, recovered two stolen cars and apprehended the suspect who had recently carjacked one of the vehicles in the Kennebunk service plaza.  He was on seven sets of bail conditions and on probation.  He was charged with felony theft.
On 02/07/2021, Cpl. Physic responded to a pick-up truck off the road.  After speaking with the driver, Jessyka Mathieu, Cpl. Physic conducted an OUI investigation and placed Jessyka under arrest for OUI. Cpl. Physic transported Jessyka to the Westbrook Police Department for an intoxilyzer test.  Jessyka was charged with OUI. Spc. Allen assisted.