June 7, 2021
Sara M Parsons
05/21/2021, at approximately 1900 hours, Spec. Allen came across a tractor trailer crashed into the woods. The driver of the vehicle was hauling a load of lumber to Massachusetts. Several people stopped and helped the driver get out of the truck as it sustained heavy damage. The driver sustained minor injuries and was transported to the hospital. Troop K was dispatched to the scene. Tr. Lemieux from Troop B assisted.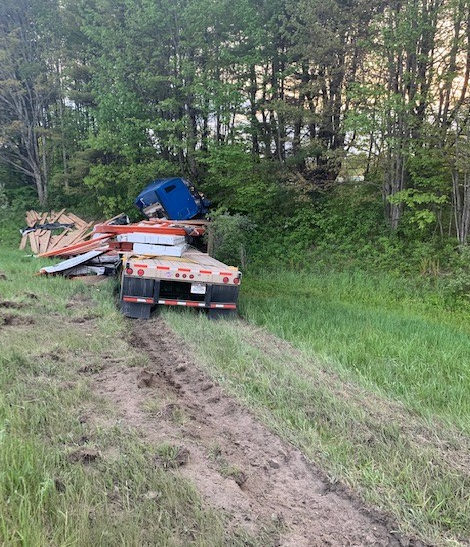 On 05/18/2021, Tr. Watson noticed a suspicious vehicle behind Canton Variety. A registration inquiry revealed the plates were false attached. After speaking with the driver, Adrienne Young (39) it was determined she was suspended and had a warrant for failure to appear. She was arrested and brought to Rumford PD to meet with the bail commissioner without incident. Tr. Willard assisted with the investigation.
On 05/18/2021, Tr. Watson stopped a vehicle with no inspection sticker on the Howes Corner Rd in Turner. The operator, Skyler Green (26) out of Texas admitted to not having a license. The passenger and RO, Shlina Catrett (28) had a valid license. Catrett was advised she could not permit him to drive anymore. Green was charged accordingly.
On 05/19/2021, Tr. Watson stopped a vehicle with no license plate in Livermore. The driver, Carl Oldham (08/30/1966) had multiple felony warrants from 2015 and a revoked license. Oldham admitted he left for Vegas and returned thinking the warrants would be gone. He was arrested and transported to jail without incident.
On 05/21/21, Members of section one responded to 25 Vickerson Drive in the town of New Gloucester to investigate a domestic disturbance where a 34 YO female had reported being assaulted and restrained by her 30 YO boyfriend.  Upon arrival, Troopers determined there was evidence of an assault and initial attempts to raise the male suspect from his residence at 22 Shaw Road were unsuccessful.  A perimeter was established, with the assistance of the Cumberland County Sheriff's Department, and Trooper Jamo negotiated with the male for over an hour until he finally agreed to comply. Trooper Jamo arrested ETHAN D. PETERS for felony domestic assault (prior) and criminal threatening and transported him to the Cumberland County Jail.
On 05/20/2021,Tr. Watson noticed a gold Cadillac CTS with an expired inspection sticker at the Red Roof in Leeds. The plates were also false attached. Kayla O'Brien (29) exited the store and immediately admitted she knew she could not be driving and knew the plates did not belong on the vehicle. Steven Gray (30) was also with the vehicle. A bail check was completed. O'Brien was charged accordingly.
On 5/24/2021, Tr. Knight stopped to check on a disabled vehicle on Rt. 26 in Woodstock. The passenger, Joshua Spencer of W. Paris, return indicated he had an active warrant for FTA for felony OAR. Joshua was arrested on the warrant without incident.