June 7, 2021
Sara M Parsons
On 05/14/2021, Troopers James and Stewart responded to a tractor trailer unit at mile 16 south in Yarmouth which was dumping diesel fuel into the roadway. The driver, Leonardo Machado of Massachusetts, stated he ran over something at mile 17 which punctured his fuel tank. Maine DEP, DOT and Yarmouth Fire also assisted in the fuel clean-up. The travel lane was closed for several hours during the morning commute.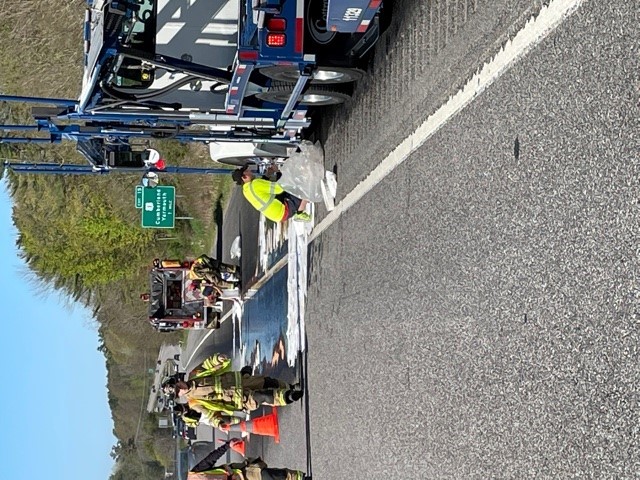 Maine State Police arrest St. Albans man on multiple charges after driving through I-295 Construction Zone. On Tuesday, May 11, 2021, at approximately 10pm Sergeant Christopher Farley was stationed in his cruiser at Exit 5 in Portland on Interstate 295. The lane was closed due to construction. Sgt. Farley, with his blue lights activated, observed a vehicle drive past him and attempt to take the exit that was closed. The vehicle drove around the cones that were blocking the exit. A construction worker was in the area as the vehicle turned into the lane closure and started down the exit where additional crew members were working. Sgt. Farley was able to stop the vehicle before the driver reaching the workers. Fortunately, no one was injured. After a brief investigation, it was determined the driver, Joseph Simonet (36) of St. Albans, was driving under the influence. He was arrested and charged with Operating Under the Influence, Driving to Endanger, and other civil traffic violations. He was transported to the South Portland Police Department and was released on bail. Due to the inherent dangers of work zones, law enforcement officers are often utilized in construction zones to deter risky or unsafe driving and keep workers and the public safe. Maine State Police would like to remind the public to slow down and use caution in construction zones.
On 04/27/2021, Trooper Nadeau stopped Blake Sandelin (39), on Route 202 in Greene for speed and erratic operation. Blake was found to be impaired and had several empty twisted teas from a cold six pack. Blake was out on bail and could not consume or possess alcohol. Blake was arrested for OUI, Felony VCR and Driving to Endanger. Once at the jail Blake refused to cooperate with COVID guidelines for the intox. Blake refused Intoxilyzer.
On 05/16/2021, Trooper Pyburn and Corporal Russell responded to Western Ave in Paris, for a report of a disturbance and possible DV incident. Troopers arrived on scene first and made contact with ANNA and JAMES PIERCE. During the course of the investigation it was determined both parties were heavily intoxicated. JAMES was extremely disorderly and uncooperative. While Trooper Pyburn attempted to conduct a pat down of JAMES for weapons, a comment was made about a knife and JAMES began reaching for what Trooper Pyburn believed to be a weapon. An altercation ensued and JAMES was eventually placed into handcuffs. A knife was located on his person. While this was occurring, a 14-year old juvenile on scene began assaulting the Paris and Oxford Officers. The juvenile was subsequently detained. JAMES was transported to the Oxford County Jail where he was charged with Disorderly Conduct and Failure to Submit to Arrest.   
On 05/12/2021, Trooper Watson stopped a vehicle with multiple defects on the Canton Point Rd. in Dixfield. The driver, Thomas Gilbert (51) was determined to be revoked. He was charged accordingly.
On 05/12/2021, Trooper Watson stopped a vehicle with no inspection sticker and multiple defects on Rt. 108 in Peru. The operator, Heather Finnegan had a warrant for failure to appear and was also suspended. The passenger, Henry Ross had a significant history with drugs. A consent search in the vehicle yielded nothing criminal. It was noted that Ross' prescription bottles were in the driver's door panel. He most likely was driving when the couple had prior stopped at a convenience store to swap. Ross does not have a license and is most likely driving the vehicle around; a 2005 white Chevy 1500 (ME PC 859XT). Finnegan was arrested and transported to Rumford PD without incident. She was charged accordingly.
On 05/12/2021, Trooper Watson saw a vehicle with multiple defects traveling south on Rt 26 near the Post Office. Tr. Watson started to catch up to the vehicle and briefly lost sight of it. It was then observed that it had made a quick right turn before the Hub and the driver was fleeing on foot. The driver, Michael Walker (44) attempted to skirt along a fence that abutted the inlet for the nearby pond. He ended up falling in and completely submerged himself. Tr. Watson helped him out then took him into custody. He was given a space blanket and some handwarmers until rescue arrived. The vehicle was towed, and Walker was charged accordingly for the incident.                     
On 05/12/2021, Troopers responded to the Mallard Mart in West Paris. Oxford County advised their Deputy on scene had out of control subjects that were in a stolen motor vehicle. Once on scene, officers were able to de-escalate the situation. subsequent interviews were conducted. One of the subjects, Hannah Hairstrom (19) was determined to have a warrant. Two individuals were charged for the theft of the motor vehicle and arrested on outstanding warrants. Troopers assisted with transport to the Oxford County Jail without incident.
On 5/13/2021, Trooper Willard stopped ME PC 7304XZ for a vehicle defect along Route 108 in Canton.  The operator Ray Henriksen of Rhode Island was operating on a suspended driver's license.  He was charged accordingly.
On 05/12/2021, Trooper Lemieux was traveling south on I-95 in Gray. At this time, he observed a Nissan quickly approaching from the rear. Tr. Lemieux saw the vehicle was traveling 109mph. The involved vehicle passed Tr. Lemieux in lane one. The vehicle was stopped, and the driver was identified as Jason Purington of Mechanic Falls. Purington noted he was late for an appointment. Purington was cited appropriately.