May 24, 2021
Sara M Parsons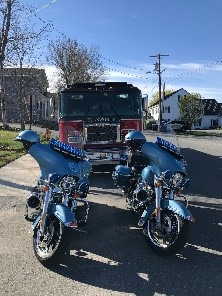 05/06/2021- MSP Honor Guard members Silk, Roddy, Martin, Dube, MSP Motors, and Troop E assisted with the Honorable transfer from Ellsworth to Bangor of Ellsworth Deputy Fire Chief Robert Dorr. Along the route, firefighters and civilians lined the route to pay tribute.  MDOT changed all their signs along the route to pay tribute to Deputy Fire Chief Dorr's service.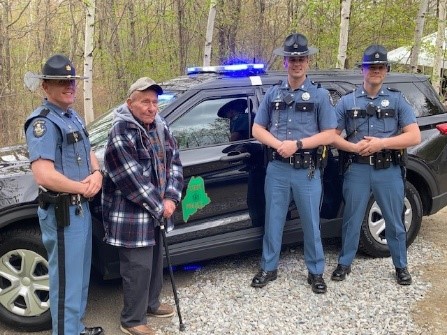 05/08/2021- Members of Maine State Police Honor Guard are pictured here with Trooper Harry A. Hansen (ret. #403.) beside the 100th Anniversary State Police cruiser. Tr. Hansen is the oldest living retired Trooper to date. The Honor Guard met Tr. Hansen after performing an honorable flag fold and presentation at a retiree's remembrance ceremony in Litchfield on May 8, 2021.  Honor Guard members continue to bridge the gap between current and retired members in an effort to keep our retires more involved in the MSP.
On 05/06/2021,Tr. Knight located Brandon Wilkinson-Rall (25) in Brownfield. Trp. Knight knew PO Fillebrown wanted a hold on Brandon as he had not been complying with visits or rehab. Brandon was also on bail. 3.80 grams of Fentanyl was found on Brandon after a search. Brandon was arrested on probation revocation, felony possession and VCR. Oxford SO assisted.
On 05/08/2021, Cpl. Hink and Tr. Cowie assisted Cumberland County with a report of someone driving by a residence and shooting the windows out in a vehicle parked in the driveway with a BB gun.  It was also reported that a male was shot in the face with a BB gun during the incident.  Cpl. Hink and Tr. Cowie put out a BOLO for a black sedan with no luck.