May 3, 2021
Sara M Parsons
On 4/21/2021 Trooper's Knight and Harrington travelled to CMCC to assist Trooper Willard with a scenario driven Police Operations Course for Criminal Justice students.  This was the final class of the semester and many of the students are currently in hiring processes.  The Troopers were able to also have a talk with the students after and answer any law enforcement questions.  Troopers Harrington and Knight are pictured with the students.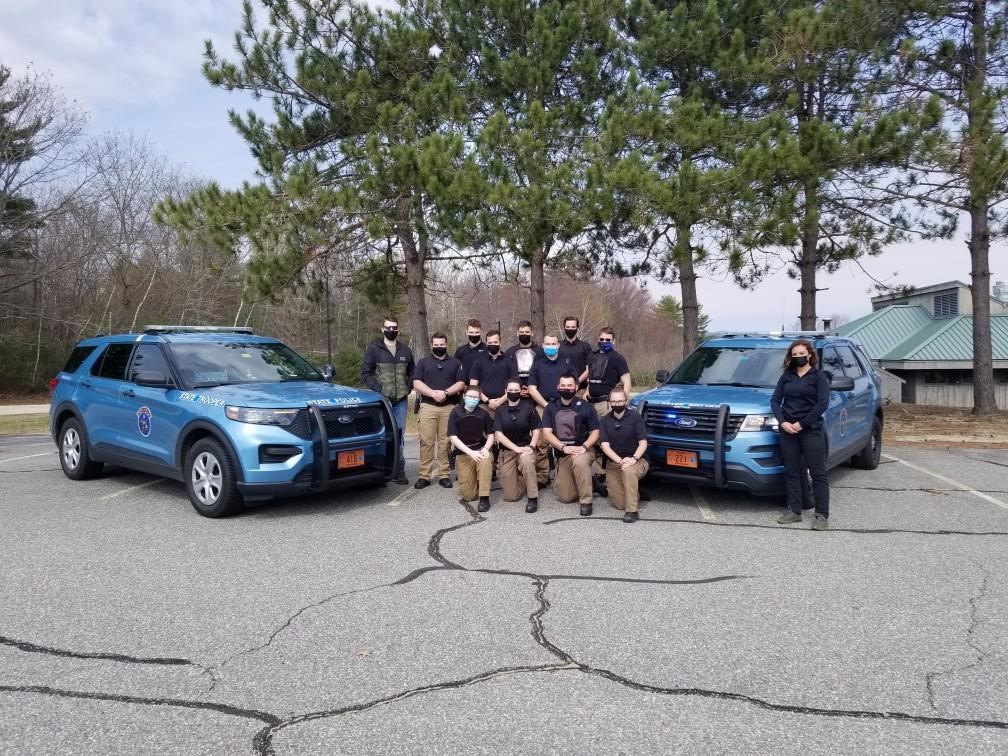 On 04/23/21, Tr. Knight conducted a MV stop on Rt. 26 in W. Paris after running the plates and the vehicle not matching what was on file. The operator could not produce a license and was found to be suspended. The rear passenger, Quentin Kelley of Mexico, had an active warrant for DV Terrorizing and Terrorizing. The operator was summonsed for OAS and Kelley was arrested on the warrant. The vehicle had recently been registered and the plates were confirmed to be valid.
On 04/24/21, Corporal Casey stopped a vehicle for speeding at 117 mph in a legal 55mph zone. Upon investigation, the operator was found to be in possession of liquor. He was subsequently charged with Criminal Speed and Illegal Transportation of Liquor by a Minor.
On 04/24/2021, Trooper Pyburn and Corporal Russell assisted Paris PD locating and arresting Sean Meehan, after a reported aggravated DV assault in the town of Paris. Meehan, who is on probation for DV, had previously left the scene and was reported to be acting extremely erratic. He was located at his residence on Buckfield Road in Paris and taken into custody without incident.  
On 04/21/21, Tr. Lemieux conducted a motor vehicle stop on I-295 in Cumberland for an expired registration. Tr. Lemieux made contact with the driver who was identified as Kalila Abssi (32) who provided a Maine identification card only. ABSSI was cited appropriately and the vehicle was towed.
On 04/23/21, Tr. Lemieux conducted a motor vehicle stop on Runaround Pond Road in Durham. The driver was identified as Ashley North (30) of Lisbon. Her Maine driver's license was suspended. She was cited appropriately.
On 04/21/21, Tr. Lemieux was traveling south on Rt. 1 in Falmouth. A U-Haul was traveling North on Rt. 1 with only the marker lights on. Tr. Lemieux turned around and caught up with the vehicle and saw the driver throw a cigarette out the window. Tr. Lemieux conducted a motor vehicle stop. He made contact with the driver (later identified as Stefan Hamilton 32 of Yarmouth). During Tr. Lemieux interaction with HAMILTON, he was using his shoulder to cover his face. HAMILTON provided his girlfriend's name and date of birth. Further investigation found HAMILTON had four active arrest warrants, a revoked driver license and bail conditions. HAMILTON later confirmed his name. HAMILTON was placed under arrest and transported to York County Jail.
On 04/22/21, Tr. Lemieux was traveling north on Rt. 136 in Durham. Near the intersection of Old Brunswick Road and Rt. 136. He saw a gray Toyota traveling south on Rt. 136 at a speed much greater than the posted speed limit of 50mph. Tr. Lemieux locked the speed of the vehicle at 77mph. Tr. Lemieux turned around and activated the police cruisers emergency blue lights and siren. Tr. Lemieux was having a difficult time catching up with the vehicle. At one-point Tr. Lemieux saw the vehicle from a distance. On radar the vehicle was traveling 86mph. Tr. Lemieux caught up with the vehicle on Rt. 136 near Chickadee Lane. The vehicle remained traveling 72-80mph while behind the driver. The vehicle then passed another vehicle on Rt. 136 with approaching traffic. The vehicle finally pulled over near the Freeport line. A high-risk motor vehicle stop was conducted. The driver and passenger were detained. The driver was identified as Alexander Osorio-Beliveau (20) of Auburn. BELIVEAU said he did not see Tr. Lemieux behind him. BELIVEAU noted he was rocking out to music. BELIVEAU was issued a USAC for criminal speed.  Freeport Officer Rice assisted.
On 4/24/2021 Trooper Willard stopped a black Ford Taurus sedan for operating without lights after dark. The operator Jonte Chisholm (20) of Lewiston was found to be operating without a license.  The passenger did not hold a valid license either.  Jonte's mother was called and she was brought down to provide a ride for Jonte and the passenger.