Pineland Public Lands and Bradbury Mt. State Park - Management Plan
The Maine Bureau of Parks and Lands completed the Bradbury Mountain State Park & Pineland Public Lands Management Plan (Bradbury-Pineland Plan) in 2011. The 15-year management plan addresses the Pineland Public Lands in Gray, North Yarmouth, and New Gloucester, as well as planning aspects of management at Bradbury Mountain State Park in Pownal. The Bureau lands, easements, and trail license connecting Bradbury Mountain State Park to the Pineland Public Lands are also included in the plan, as is the Mayall Mills historic site in Gray.
Plan Update and Review
The Bureau of Parks and Lands has completed the first Five-Year Review of the Bradbury-Pineland Plan covering the period from 2011 through 2016. The Integrated Resource Policy (IRP) requires that the Bureau, at five year intervals, report to the Advisory Committee (AC) on accomplishments and changing conditions that may warrant amendments to the plan.
The Five-Year Review is prepared in a table format. It is linked below as a PDF under Management Plan Review Documents. It:
Lists plan recommendations (left column), and
Actions taken to implement each recommendation (right column), and
Identifies, from the Bureau's perspective, any issues any new issues or circumstances that were not addressed in the plan that may warrant Committee discussion or action (at end of table).
The Five-Year Review table was sent to AC members on December 29, 2016. One new issue was identified: A non-motorized trail proposed by the Royal River Conservation Trust (RRCT), running between Elmwood Road and Sweetser Road in Pownal, in the vicinity of Chandler Brook. The approximately 1.5 mile trail would primarily cross private land on which RRCT has conservation easements, but would also cross the BPL Bradbury-Pineland corridor lands.
The Bureau held an AC meeting on Wednesday, February 1, 2017 at the Pownal Town Hall, from 5:30 to 7:00 PM, to review progress on implementation of the plan recommendations and discuss the RRCT trail proposal. Written comments on those topics were accepted for two weeks after the meeting. No comments were received. The Final Report for the Plan Review and Update (PDF 597KB) (also linked below) summarizes the review process, and also provides the AC meeting notes, meeting agenda and maps of the proposed RRCT trail.
Management Plan Review Documents
Adopted plan available for download:
---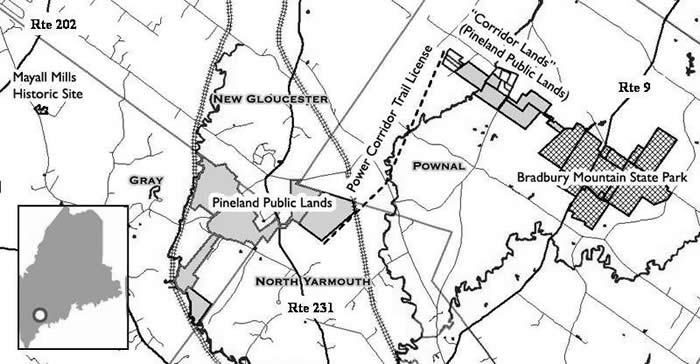 ---
For more information:
Jim Vogel
Senior Planner
Maine Bureau of Parks and Lands
22 State House Station
Augusta, ME 04333-0022
(207) 287-2163