Infrastructure Projects Revitalizing Maine State Parks
Maine State Parks, known for their breathtaking sites and natural beauty, are taking a significant step forward. Governor Janet Mills announced her groundbreaking Maine Jobs and Recovery Plan initiative allocating $50 million to rebuild and improve park infrastructure across the state. This timely investment comes as Maine's parks experience a surge in visitors and aim to enhance the overall experience for everyone.
Unprecedented Visitor Numbers and Economic Impact
In 2022, Maine's 48 parks and historic sites witnessed a continued visitor surge, attracting over 3.28 million people. These nature enthusiasts and adventure seekers contributed an estimated $100 million in revenue to the state's economy. The growing popularity of the parks underscores the need for significant investments to maintain their appeal and meet the rising demand for outdoor recreation opportunities.
Overdue Infrastructure Upgrades
Despite the remarkable influx of visitors, it has been over 15 years since any substantial investment has been made in Maine's parks. The lack of funding led to deferred maintenance of critical infrastructure, such as roads, trail systems, and other vital amenities. This neglect diminished the accessibility and enjoyment of the parks.
Governor Mills' Initiative
Governor Janet Mills recognized the urgency of addressing the deteriorating conditions of Maine's parks and spearheaded the $50 million initiative as part of her Maine Jobs & Recovery Plan. This significant investment has enabled the Department of Agriculture, Conservation and Forestry (DACF) to undertake crucial capital infrastructure improvements. The key objectives of this initiative are as follows:
Ensuring Safety and Stewardship: The funds will address major safety concerns and ensure the preservation and responsible management of Maine's natural resources. Upgrading and maintaining trails, roads, and other park infrastructure will create a safer and more sustainable environment for visitors and protect the state's unique ecosystems.
Accommodating Increased Visitation: The surge in park visitation necessitates infrastructure improvements to accommodate the growing number of visitors. By expanding and enhancing facilities, the initiative aims to provide a better experience for park-goers.
Boosting Tourism and Outdoor Recreation: Maine's economy heavily relies on tourism and outdoor recreation. The park upgrades will enhance the visitor experience and contribute to the overall recovery and growth of these vital sectors. Well-maintained parks will attract more people, generating increased revenue and job opportunities for local communities.
Governor Mills' $50 million investment in upgrading Maine's state parks represents a significant milestone in revitalizing these natural treasures. With a record number of visitors flocking to the parks, this initiative addresses long-overdue maintenance needs. It focuses on ensuring safety, stewardship, and improved experiences for Maine residents and tourists. The initiative aims to support the recovery and growth of Maine's tourism and outdoor recreation sectors by enhancing infrastructure and accommodating increased visitation. This commitment to preserving and strengthening Maine's natural beauty will undoubtedly leave a lasting positive impact on the state and its visitors for years to come.
Projects
Many other projects are in the design and engineering phases, and construction will occur in 2024.
Camden Hills State Park
Projects: Re-pave and replace culverts on the road to Mt. Battie, pave parking lots; create accessibility trails at Mt. Battie Summit, improve/enhance hiking trails
Funding: MJRP
Colonial Pemaquid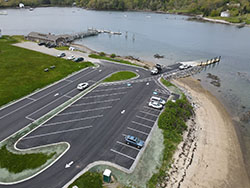 Project: Redesign and paving of entrance road, boat launch, and parking.
Funding: Boating Facilities Division funds
Lily Bay State Park
Projects: Re-pave park entrance road, clean-up significant storm damage to trees in campground loops and entrance road.
Funding: MJRP, other state park funds
Mt. Blue State Park
Projects: Pave campground entrance road and Center Hill Road.
Funding: MJRP
Range Pond State Park
Projects: Install accessibility beach mats.
Funding: MJRP
Rangeley Lake State Park
Projects: Replace wave attenuation booms near docks, re-pave park entrance road.
Funding: MJRP
Reid State Park
Projects: Construct new bridge to Griffith's head, re-pave park roads, create new entrance station.
Funding: MJRP
Sebago Lake State Park
Projects: Repave entrance road, install new entrance station, deploy accessibility beach mats, install campground and trailer service area leach fields.
Funding: MJRP