Bible Point State Historic Site
From History of Island Falls (Maine), p. 29
It was in September, 1878, that Theodore Roosevelt first visited Island Falls. He came with a cousin and two friends who previously had vacationed in the Mattawamkeag Lake region with W.W. "Bill" Sewall as guide. The party came by train to Mattawamkeag Station, the nearest point reached by the railroad, and traveled the remaining thirty-six miles by buckboard. They slept that night in a field-bed in the third floor of the William Sewall residence.
There early developed a strong kinship between TR, the youth with wealth and social background, and "Bill" Sewall, the northern woodsman, who, as a matter of principle never drank or smoked, and who read the" Bible daily. Mr. Sewall wrote later, "Theodore was a different fellow to guide from what I had ever seen before. I had never seen anybody that was like him, and I have held that opinion ever since."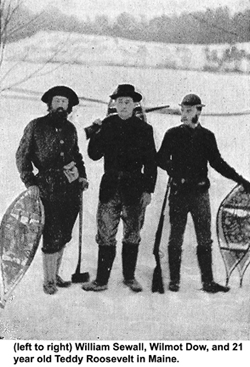 "I engaged another guide to help with the party - Wilmot Dow, a nephew of mine," said Mr. Sewall, "a better guide than I was, better fisherman, and the best shot of any man in the country." They camped at the foot of Mattawamkeag Lake, and did their hunting and fishing in the area. Mr. Sewall often told his family that Mr. Roosevelt would take his Bible each day and go alone to a certain spot in the woods - and since that time, the beautiful point of land at the confluence of West Branch Mattawamkeag and First Brook has been known as "Bible Point".
A plaque was placed at this spot in 1921 by the Roosevelt Memorial Association, and in 1970 Bible Point was named to the State Register or Historic Places. This 27.4 acre point was donated to the State of Maine in December 1971, to be preserved as a natural area.
Theodore Roosevelt made another trip to Island Falls in March of 1879, when Mr. Sewall met him at Mattawamkeag Station and drove him to Island Falls in a sleigh over rough and drifted roads. This trip included time spent in a lumber camp in the Ox Bow region, hunting and fishing with Sewall and Dow as guides. Mr. Roosevelt came again in August of 1879,made an eight-day excursion to Mt. Katahdin, and then he and Mr. Sewall took a trip to Munsungun Lakes. They rode forty-six miles in a wagon to the Ox Bow, then waded, poled, and paddled fifty miles in a pirogue (dugout) up the Aroostook River to Munsungun.
When Mr. Roosevelt was ready to return to his studies at Harvard, Sewall and Dow guided him to the railroad by a different route. They took him in a birch-bark canoe down through Mattawamkeag Lake and Mattawamkeag River to Kingman, where TR took the train to Boston.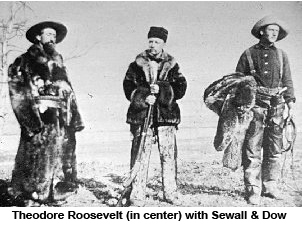 Theodore Roosevelt did not return to Island Falls again. In 1884 the Sewalls and Dows, with their families, joined him on his cattle ranch in the Bad Lands of Dakota Territory, and worked as foremen on his cattle ranch "The Elkhorn" (Fred Sewall's birthplace) near Medora, until 1886. William Sewall's buckskin suit, leather chaps, saddle and quirt are now displayed in the museum at the Theodore Roosevelt National Memorial Park near Medora, North Dakota. (The book Bill Sewall's Story of TR tells of these ranch days in detail.)
Although they corresponded often in the intervening years, the next time Mr. Sewall saw Theodore Roosevelt was in Washington, D.C., when the Sewall family were special guests of Mr. Roosevelt at his inauguration as President of the United States. Their deep friendship continued throughout their lifetime.