Long Lake Dam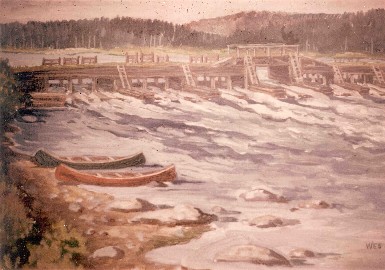 In 1907, the St. John Lumber Company began construction on the Long Lake Dam and, after the first effort washed out in its first season, completed the project in 1911. This timber crib structure was made up of huge pine logs and cost a total of $50,000 and extended the duration of the company's log drive northward down the Allagash River during late spring and early summer. The dam was seven hundred feet across, held fifteen feet of water depth, and each of its eighteen gates were eight feet wide. When the gates were opened, the force was felt more than one hundred miles away at Van Buren. When the east side of the first dam collapsed in 1908, the water level at Fort Kent rose several feet.
The dam gave the lumber company better control of water flow down the Allagash River and added ten days to the drive. In better years, it was refilled three and four times during a single summer. It was so effective in the 1910s and 1920s that the dam was credited with stabilizing the economy of the upper St. John basin. During the winter of 1926-27, Edouard "King" Lacroix had the Long Lake Dam remodeled, raising the head to seventeen feet and removing some of the shore gates.
Today, the dam is almost completely washed out. Remnants of dump wagons used to haul gravel for construction of the dam are scattered in the nearby forest and in the watercourse below the dam.