Paddling Opportunities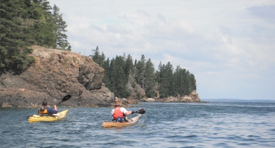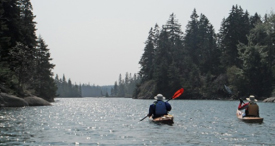 Paddling adventures are abundant in Maine with
3,500+ miles of coastline waters
6,000+ lakes and ponds
Over 31,000 miles of rivers and streams offer meandering flatwater to technical whitewater experiences
A rich cultural history and beautiful settings

Ancient interior canoe routes developed by generations of Native Americans
Coastal town harbors that reflect a heritage of livelihoods drawn from the water; working waterfronts , tall ships, and lobster lore
Lakes and ponds; some dotted with shoreline camps and homes; others pristine and undeveloped.
What to Expect:
Seasons
Variable depending on location, elevation, and latitude.

Ice-free conditions may not exist until mid-late May on mountain and northern lakes; coastal/southern locations are ice-free earlier.
Cold water temperatures should be expected in all but summer months with very cool ocean temps even in mid-summer.

Water flow is generally highest during spring-runoff for most waterways; most listed here can also be paddled during the summer and fall when levels tend to be lower.
Safety
Maine's waters, both coastal and freshwater, are dangerously cold much of the year.
Ocean tides of as much as 18-25 and strong currents exist at some locations.
Stay Informed with Safety Updates from the Maine Bureau of Parks and Lands.
Boating Safety Tips from Maine Inland Fisheries & Wildlife.
Weather all across the state can rapidly change and winds arise suddenly creating dangerous conditions.
Personal Flotation Device (PDF)

Children 10 years of age and under must, by law, wear a Type I, II, or III PFD while on board all watercraft.
All boaters should wear a PFD at all times in small boats, even if you think you're a strong swimmer.

Plan and record your route ahead of time

Notify someone of your intended route and time of return; and monitor conditions carefully.
Courtesy
Share the boat ramp and docks with other users
Load your gear out of the way of others who are ready to launch or retrieve
Launch quickly and safely
Access
Where to go:
(suggested destinations managed by or in partnership with Maine State Parks and Public Lands)
Spend a few hours on the water-

Along the coast:
Interior Maine:
Extended Backcountry Trips-