News
2019 Summer Camping Season Reservations Begin
Continuing Winter Camping 2018-2019 Season
Songo Lock gets New Gates
Parks & Historic Sites: Days & Hours
Parks may be visited year-round, from 9:00 a.m. to sunset daily unless otherwise posted. Fees are collected at the booth by staff or through self-service stations.
For current status:
Please call the park or historic site directly.
Park Amenities, such as water, restrooms and buildings, are shut down for the winter season as dictated by weather. Primitive toilets may be available at some locations.
Parking - Most parks and historic sites are not plowed during the winter due to seasonal staffing. A few parks are only plowed when the manager is on duty.
Drone, Unmanned Aircraft (UAS) Policy
The general use of drones (UAS) is prohibited in Maine State Parks, Historic Sites, or DACF Boat Launches without direct oversight and guidance of an approved law enforcement agency or by the issue of a Special Activity Permit.
Upcoming Events & Activities
Upcoming Public Meetings
No meetings currently scheduled.
Parks and Lands Newsletter
Maine Conservation Corps (MCC)
Celebrate 50Years - Allagash Wilderness waterway: 1966-2016
Purchase a Limited Edition signed & numbered 24x20inch print for $50. each plus S&H and tax. Call to Order:
(207) 695-3721 x3

2014-2019 SCORP
State Comprehensive Outdoor Recreation Plan is Complete.

Help support State Parks and IF&W programs
Purchase a Loon/Conservation License Plate from the Bureau of Motor Vehicles online or at your town office.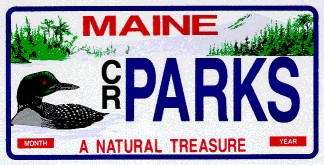 Purchase a Snowmobile Trail Fund Sticker at the IF&W online store.
Your Passport to FUN!