---
News
Allagash Wilderness Waterway Visiting Artist Program
The Allagash Wilderness Waterway (AWW) has fueled the imagination of native Americans, rusticators, and artisans for centuries. When Henry David Thoreau made his journey to Pillsbury Island on Eagle Lake in the mid-1800s, he was inspired to write about his adventure in The Maine Woods. Since then, many visitors have attempted to capture the beauty and solitude of the Allagash headwater lakes and lower river through stories, drawings, photography, and music.
In recognition of this long-standing tradition, the AWW has initiated a Visiting Artist Program. The program's purpose is to invite an artist to immerse themselves in the Maine wildness and the creative process, and ultimately, to share the experience with the public. Deadline is April 30, 2020. Learn more and apply.
Ch. 57: Logging and Forestry Education Grant Program: Draft Rules & Public Hearing
March 26, 2020 Public Hearing Canceled
Reposted for Written Comment Only
The Bureau of Parks and Lands is updating the rules regarding the Logging and Forestry Education Grant program. The purpose of the logging and forestry education grant program is to provide grants to eligible education programs to develop loggers capable of working on the State of Maine's public reserved lands. You may comment in writing by emailing comments to doug.c.reed@maine.gov. Comment deadline for the draft rules is April 24, 2020.
2020 Camping Reservations
Family Camping sites (one family* or group of 6 or fewer people)
Group Camping sites (for 7 or more people, including children)
Group Picnic Areas and Shelters
Untold Secret: Maine Public Lands
Explore the unbelievably beautiful Maine Public Lands. These are magical places in Maine—and they belong to all of us. Watch the new 21-minute short film, or in segments, to begin your virtual journey and plan for your visit to Maine Public Lands.
Look to the Stars - Telescopes and Star Gazing at Maine State Parks
In this Maine Outdoor Heritage Fund supported project, the Bureau of Parks and Lands is partnering with Cornerstones of Science, U-Maine's Emera Astronomy Center and Maine astronomers and trained naturalists to develop and offer star gazing programs at 12 Maine State Parks for campground guests and park visitors. The grant will be used to purchase twelve telescopes and star kits, two iPads with star apps, and astronomy books, plus hold a night sky training session and practical for park staff and program presenters at the Emera Astronomy Center.
These star gazing programs will connect visitors to Maine's natural heritage during a time when many fear to be outside, the nighttime. And, viewing the stars has the inherent ability to make people think outside themselves, to wonder about their place in the universe. The experience through this project will connect star gazers with the importance of the stars for navigation by humans and animals, and the importance of natural places, such as State parks, in helping preserve starscapes.
Look for these star gazing programs during the summer of Maine's bicentennial, 2020. They will be announced in the bureau newsletter and program calendar.
So Rememeber to Give When You Play!
When you choose to play the Maine Lottery, choose the ticket that gives back to Maine's natural heritage through the Maine Outdoor Heritage Fund. Ask for it by name. The current ticket is Big Bucks. Thank you!
Parks & Historic Sites: Days & Hours
Parks may be visited year-round, from 9:00 a.m. to sunset daily unless otherwise posted. Fees are collected at the booth by staff or through self-service stations.
For current status:
Please call the park or historic site directly.
Park Amenities, such as water, restrooms and buildings, are shut down for the winter season as dictated by weather. Primitive toilets may be available at some locations.
Parking - Most parks and historic sites are not plowed during the winter due to seasonal staffing. A few parks are only plowed when the manager is on duty.
ATV Trails Update
View and subscribe to our list of ATV Trail Notices and check in with local clubs for the most up to date trail condition information.
Drone, Unmanned Aircraft (UAS) Policy
The general use of drones (UAS) is prohibited in Maine State Parks, Historic Sites, or DACF Boat Launches without direct oversight and guidance of an approved law enforcement agency or by the issue of a Special Activity Permit.
Upcoming Events & Activities
commemorating 200 years of statehood


Leave No Trace
SCORP
Learn about the State Outdoor Recreation Plan
Parks and Lands Newsletter
Maine Conservation Corps (MCC)

Help support State Parks and IF&W programs
Purchase a Loon/Conservation License Plate from the Bureau of Motor Vehicles online or at your town office.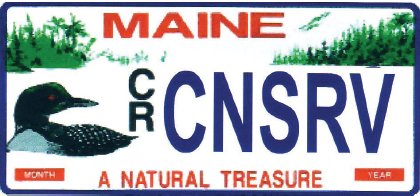 Purchase a Snowmobile Trail Fund Sticker at the IF&W online store.
Your Passport to FUN!