Maine ATV Trails
Maine's ATV Trail Network
An amazing network of trails makes it possible for ATV riders to travel throughout much of Maine. Trails include multi-use and multi-use rail trails through scenic recreation and wildlife areas. Be on the lookout for other trail users and wildlife on the trail. Check out the information on this page to get started on Maine Trails. Join your local club to get a map and support the ATV trails system.
ATV Trails on Maine State Parks and Public Lands
Use our Park Search Feature to find ATV trails.
Multi-use Rail Trails
Several state-owned or leased abandoned rail beds are available for multiple-use, including three-season ATV use.
Multi-use Road Systems
Many of the Public Reserved Lands road systems are open to ATV use.
If ATV use is allowed on a road it will be marked with a shared use sign.
If there are designated ATV trail systems they will have the regular ATV trail signs on them. If roads or trails don't have these signs then ATV use is prohibited!
ATV use on Maine IFW Wildlife Management Areas
For information regarding ATV use on Wildlife Management Areas (WMAs), please visit Maine IFW for links to maps, recreational opportunities and information regarding ATV use.
Remember to always tread lightly and be respectful of other users of these properties.
*Policy Statement About
Multi-use Rail Trails Managed by the Department of Agriculture, Conservation and Forestry Off Road Vehicle Program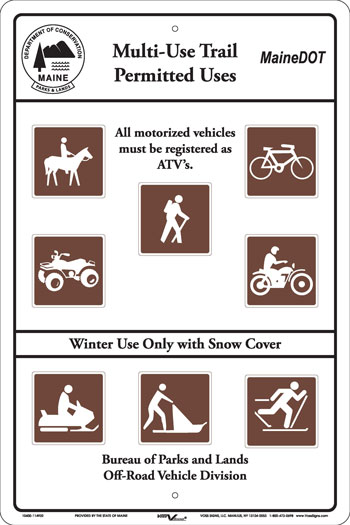 Multi-use Rail Trails are open to both non-motorized and motorized use and must adhere to the following:
Non-motorized use includes but is not limited to: walking, hiking, horseback riding, bicycling, snowshoeing, dog sledding, and skiing.
All motorized vehicles permitted on Multi-use Rail Trails must be legally registered as either an ATV and/or snowmobile.
Vehicles registered or built for on-road use such as cars, trucks, jeeps and road motorcycles are prohibited. Dual Sport motorcycles must be registered as an ATV to be on state owned Multi-use Rail Trails.
Multi-use Rail Trails are developed and maintained for legally registered snowmobiles and/or ATV's.
Dogs must be on a leash under the physical control of the pet handler and must not be left unattended. Pet owners must immediately clean up any fecal deposits left by their pets.
The type of use of Multi-use Rail Trails during the winter season is dependent upon snow conditions. If the Multi-use Rail Trail is snow covered ATVs and horseback riding are not allowed. The following uses are permitted when the Multi-use Rail Trail is snow covered: snowmobiling, snowshoeing, dog sledding, skiing and hiking. If the gravel trail surface is exposed and frozen (no snow) and conditions allow, ATV use is permitted as long as the trail has not been officially closed.
If a section of a Multi-use Rail Trail is closed due to construction it will be identified as "CONSTRUCTION ZONE, NO TRESPASSING" and is closed to all public use.
Trails closed during mud season will have signs stating "STOP TRAIL CLOSED DUE TO SATURATED SOILS". Pedestrian use is permitted during mud season and is defined as walking, jogging or hiking use only.
Organizations or businesses that would like to conduct a special event or activity are required to obtain a Special Use or Conditional Use Permit from the Department of Agriculture, Conservation and Forestry, Off-road Recreational Vehicle Office at least 4 weeks prior to the start of the event.
Inquires regarding Multi-use Rail Trail Policy and/or Permitting should be directed to:

Email: Senior Planner, Off-road Recreational Vehicle Office (207) 287-5574