Water Activities
Whether you prefer salt or fresh water, ponds and lakes, or rivers Maine State Parks and Public Lands provides some of the best locations in Maine for boating, sailing, paddling, and swimming. Our featured pages will help you plan your visit. Use our Find Parks and Lands search feature to mix and match activities & facilities we offer.
Maine Island Trail - Americas first water trail, the Maine Island Trail is a water trail spanning wild islands and coastal sites along the entire Maine coast. Of the nearly 200 islands along the trail, over 40 are owned by the Maine Bureau of Parks and Lands. For more information contact the Maine Island Trail Association (MITA).
Be Shark Smart
Shark sightings are becoming more frequent in Maine and New England. Learn how to be shark smart this summer while visiting coastal beaches. This video, produced to to raise awareness and help people and white sharks co-exist peacefully, was developed by the Atlantic White Shark Conservancy, the Cape Cod National Seashore, Massachucetts Division of Marine Fishers, and officials from Cape Cod and South Shore towns.
Be Shark Smart to stay safe and to protect wildlife:
Follow lifeguard instructions, signs, and warning flags.
Be aware that sharks hunt for seals in shallow water.
Stay close to shore where rescuers can reach you.
Swim, paddle, kayak, and surf in groups; and avoid splashing.
Avoid seals and schools of fish.
Avoid murky or low-visibility water.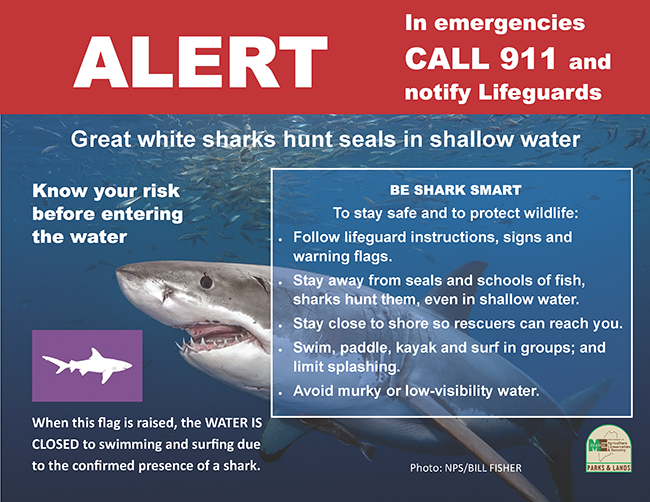 To learn more about white shark research and to download the Sharktivity App, visit www.atlanticwhiteshark.org
Conditions & Alerts Pages:
Text to Subscribe codes for all locations (PDF 244KB)