Group Picnic Areas: Sites & Shelters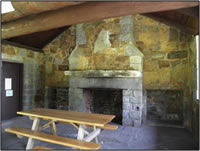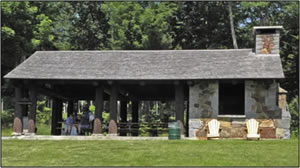 Photo Credit: Camden Hills Group Picnic Shelter - outside and inside / Staff Photos
Reservations
Open at 9:00 a.m. EST on the 1st business day of February each year. On Thursday, February 1, 2024 (storm date if Maine State Government is closed – Friday, February 2, 2024)
By phone only. Phone numbers are listed below.
If one telephone number is listed, this is the year-round number to call.
If two numbers are listed, the first (off-season number) is the number to call beginning in February. The second number listed is the in-season number and a date is listed for when it replaces the off-season phone number.
First come, first serve picnic areas are available at many State Parks. Call the park directly for more information about these non-reservation sites.
Fees
Group Picnic Area Definitions
Group Picnic Shelter - is covered by a roof.
Group Picnic Site - is open air - not covered by a shelter roof.
20 State Parks offer Picnic Areas to Reserve:
State Park

Phone Number

Group Picnic
Shelter

Group Picnic
Site

(207) 688-4712

$150.

No

(207) 236-3109 when calling Feb. 1, 2023
(207) 236-3109 from
April - October
(207) 236-0849 from
Nov - March

$150.

No

(207) 726-4412

No

Yes

(207) 799-5871

No

$35.

(207) 941-4014
Northern Region Office; From May 1st on call the park at
(207) 549-7600

$100.

No

(207) 799-5871
Two Lights State Park;
From April 2nd on call
the park at
(207) 283-0067

$100.

No

(207) 384-5160
Vaughn Woods Memorial State Park

Free

No

(207) 589-4255

$150.

No

(207) 941-4014
Northern Region Office;
From April 1st on call the park at
(207) 667-4778

No

$35.

(207) 941-4014
Northern Region Office;
From May 1st on call the park at
(207) 548-2882

$150.

No

(207) 585-2261

$150.

No

(207) 941-4014
Northern Region Office;
From May 1st on call the park at
(207) 564-2003

$150.

No

(207) 998-4104

$150.
Resource Room available for additional $150.

$35.

(207) 371-2303

$150.

No

(207) 693-6231

Pine Grove Group Picnic Area Map - PDF (312KB)

$150.

$35.

(207) 941-4014
Northern Region Office;
From May 1st on call the park at
(207) 525-4404

$100.

No

(207) 799-5871

$150.

$35.

(207) 384-5160

Free

No

(207) 941-4014
Northern Region Office;
From May 1st on call the park at
(207) 446-7079

$100.

No

(207) 865-4465

$150.

No