Partner With Maine Conservation Corps
Maine Conservation Corps (MCC) has two programs which accomplish natural resource projects:
Field Teams consist of 3-6 members, which improve conservation areas and recreational trails. Activities include creating new trails and rehabilitating existing trail, stonework, timber work, the installation of drainage and erosion control structures and more.
Environmental Stewards are placed individually with host sites to accomplish conservation initiatives. These can include volunteer recruitment and management, water quality monitoring, protecting endangered species, increasing capacity, habitat restoration and more.
---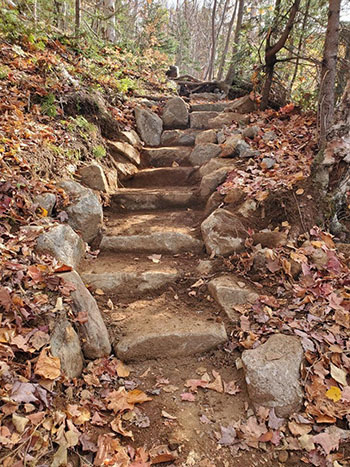 Field Teams
The Maine Conservation Corps (MCC) partners with federal, state, municipal, and non-profit organizations. The primary focus of the MCC Field Team is construction and rehabilitation of recreational trails, but teams may also engage in a variety of other conservation projects. MCC projects must be on land open to the public.
MCC offers project planning and assessments at a daily rate. Please share your ideas and organizational needs.
Teams operate in groups of 3 or 6 from mid-June to mid-October annually. Our members are volunteers serving in the AmeriCorps National Service program. Field Team projects have included: stonework, bridging, erosion control structures, boundary line maintenance, and construction of new trails.
MCC Provides:
A team of 3 to 6 members, including a Team Leader
12-week training for Team Leaders
Chainsaw Safety Training
One-week Member Orientation
Hand tools and power tools for the projects
General project management and ongoing support to teams
Transportation
Camping equipment for teams
Liability and worker's compensation insurance
Promotion of volunteer events
Field Team Partners Provide:
Fee for service at a weekly rate
Project materials and delivery
Housing (a campsite for the team)
Specialized equipment, if needed (ATV, tractor)
Regular communication with the team and MCC staff
Partner with MCC to foster the next generation of outdoor stewards!
Field Team Project Proposals are due Friday, October 6, 2023 for the 2024 or 2025 season.
Resources: Project Proposal Form - 2024 & 2025 (DOCX) / Project Proposal Instructions - 2024 & 2025 (DOCX) / Field Team Partnership Flyer (PDF) / Funding Options (DOCX)
For more information or questions, please contact:
Field Team Program Manager:
Lindsey May
Lindsey.May@maine.gov
(207) 624-6091

---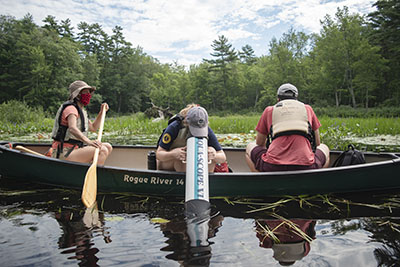 Environmental Stewards
Maine federal, municipal, state or non-profit organizations may apply to be a Host Site for our highly qualified Environmental Stewards. These individuals are recruited by MCC and selected by the Host Site to accomplish a specific conservation project. The projects can vary greatly. In the past, Environmental Stewards have designed and implemented land management plans, conducted field research and studies, monitored invasive species, recruited and led community volunteers, provided interpretive programs to school groups, and completed trail projects throughout the state. If your organization has a need to build capacity in any of the above or similar areas, please fill out the Environmental Steward Host Site Application.
Information for Prospective Partners:
Environmental Stewards are AmeriCorps members who serve 900 or 1700 hour terms. 1700 hour members begin in January and 900-hour members typically start in early June. Flexible start dates are available for 900 hour members. All positions serve a minimum of 40 hours per week.
Host Site Applications are reviewed several months prior to the Environmental Stewards' start date. After sites are notified of acceptance, MCC will recruit appropriate candidates and screen applications for eligibility. Interested applicants are forwarded to Host Sites. Host Sites will conduct interviews, make their final selection and offer positions to applicants.

Each member receives at least three days of training and orientation with MCC. Training includes topics, such as: volunteer recruitment and management, collecting, reporting and monitoring data, presenting MCC and Host Sites to media outlets, interpretive programming, communication, tool use and safety, invasive plants, and job readiness skills. Sites are expected to administer site-specific training as needed. A schedule of required trainings and events will be provided to Host Sites.

MCC administers payroll, takes care of state and federal taxes and provides benefits to members (such as health insurance - when members qualify, weekly stipend, workers compensation, job training, etc.).

A Host Site is responsible for:

Identifying a Host Site Supervisor to attend training prior to the member's start date; provide ongoing supervision to the Environmental Steward; and support the initiatives of MCC.
Submitting the cash contribution to MCC within the member's first two months of service.
Providing transportation to the member for service project purposes.
Promoting the member in the local community- through publications, public announcements, or any other visible avenues available.
Host Site Applications for 2024 Environmental Stewards are due Friday, October 6, 2023.
Applications for alternate start dates should be submitted 120 days prior to proposed start.
Links for Current Partners:
OnCorps: http://me.oncorpsreports.com/
Resources: Host Site Application - 2024 (DOCX) / Host Site Application Instructions (DOCX) / Environmental Steward Host Site Flyer (PDF)
For more information or questions, please contact:
Environmental Steward Program Manager:
Deidrah Stanchfield
Deidrah.Stanchfield@maine.gov
(207) 624-6087