First Day Hikes - January 1, 2024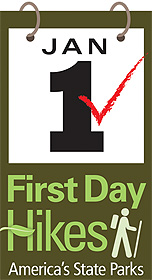 Maine State Park First Day Hikes, part of the nationwide initiative led by America's State Parks to encourage people to get outdoors, are a combination of led and self-guided hikes, and virtual visits for 2024.
Guided Program Listings:

To Be Announced by Dec. 1

Self-guided Hike Locations:
Additional Self-guided Hike Guides are available in the right column of this page.
Share your self-guided hike photos and comments with us by tagging @mainedacf to Instagram and Facebook.
Stay Informed with Safety Updates.
Virtual Visits
Bradbury Mt. State Park, Pownal, Maine.
Experience or re-live the 2020 First Day Hike with Governor Mills and an enthusiastic group of hikers who made the trek to the summit of Bradbury Mountain on a glorius blue sky day! Start your journey!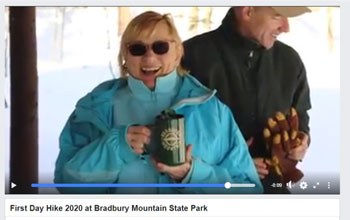 Holbrook Island Sanctuary, Brooksville, Maine.
Holbrook Island Sanctuary offers a scenic natural area of upland forests, rocky shores, and an offshore island. Opportunities include hiking, nature appreciation, and cross-country skiing in winter. Start your journey with Aislinn Sarnacki, Adventure expert, Bangor Daily News.
For the Snowbirds who have had to remain in Maine and those looking for a tropical paradise:
Kaiwi State Scenic Shoreline, O'ahu
Kaiwi's First Day Hike celebration is a multicultural event. The day begins with the customary blowing of the Pu (conch shell - at 3 minutes and 50 seonds into the video), followed by bagpipes, and a taiko drum performance. Aerial shots of the beautiful shoreline follow the opening ceremony. Start your journey!
Kalalau Trail
Take an 11 mile stunningly beautiful hike on the coastal Kalalau Trail plus a scenic flight aboard a helicopter for an awesome ride - all in less than eight minutes! This is a terrific video to watch while doing your own workout. Start your journey!