Boating Facilities Program
Maine's 2,500 lakes and ponds and 3,500 mile coastline offer varied and outstanding recreational opportunities to owners of trailered or car-top watercraft. Access to these waters can be found at hundreds of locations, many of which are maintained by local organizations.
What we do:
Provide access to lakes, ponds, rivers, and the coast at almost 400 locations
Provide grants for:

Public recreational boat access
Replacement of boarding floats

Oversee the placement of navigational aids on inland waterways

More than 2400 markers on 38 water bodies

Produce boat launch and navigational aids information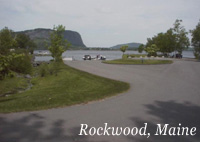 Over 400 launch sites are provided by Maine's Bureau of Parks and Lands, and the Department of Inland Fisheries and Wildlife.
Launch Sites may have: (see boat launch listings below for specific site details)
Gravel or hard-surfaced ramps
Boarding floats
Rest rooms
Picnic tables
Canoe or carry-in access only
Tidal ramps - usable only at high tides and are designated "part-tide" facilities
Drone, Unmanned Aircraft (UAS) Policy - The general use of drones (UAS) is prohibited in Maine State Parks, Historic Sites, or DACF Boat Launches without direct oversight and guidance of an approved law enforcement agency or by the issue of a Special Activity Permit. Drone, Unmanned Aircraft Policy (PDF 19KB)
Quick Contacts:
Boat Launches
Navigational Aids

The Navigation Aids Program currently places and maintains more than 2400 waterway markers on 38 water bodies throughout Maine. In addition, 27 lake associations and one municipality currently place and maintain navigational buoys using the same nationwide marking system. Navigational aids are subject to being off station or missing due to human or natural actions. Watercraft operators are encouraged to use caution when boating on unfamiliar waters.

Boat Registration & safety information through the Department of Inland Fisheries and Wildlife
Grants

The Boating Facility Grant Program is funded by a portion of the state gasoline tax attributable to motor boat use, and is used to finance the acquisition, development and maintenance of public boating facilities on both coastal and inland waters.
Our Contact Information:
Boating Facilities Program, Bureau of Parks and Lands, 22 State House Station, Augusta, Maine 04333-0022
(207) 287-4952