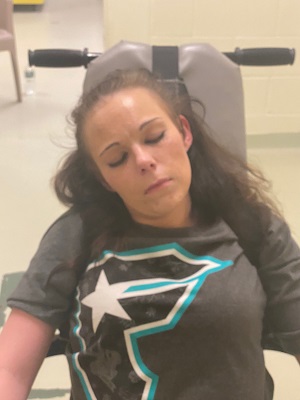 On Feb. 12, 2020 at approximately 1:40 a.m. , Troopers out of Troop A responded to the town of Hollis for a reported female breaking her ex-boyfriend's truck windows with a pipe.
Upon arrival, the female identified as Sharleen Hoffman, 29, of Hollis, was no longer on scene. An on-scene investigation showed probable cause for charges of Criminal Trespass Class D and Criminal Mischief Class D. Troopers located Hoffman at her residence where she and other members of the household were highly uncooperative.
Hoffman punched her mother and one of the responding Troopers in the face while at her residence. Hoffman was taken into custody. While Troopers returned to speak with the family, Hoffman escaped the cruiser and fled the scene. She was located shortly after and taken back into custody.
Hoffman was transported to the York County Jail where she continued to be uncooperative and violent. Bail was listed at $2500 and the following charges are pending: Domestic Violence Assault Class D, Assault Class D, Criminal Trespass Class D, Criminal Mischief Class D, Refusing to Submit Class D, and Escape from Custody Class D.