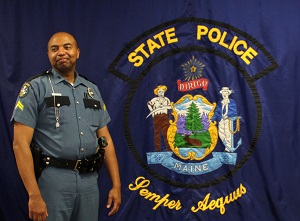 Troopers Elgin Physic and Jesse Duda were recently promoted to the rank of Corporal. 
Cpl. Physic is a 12-year veteran of the Maine State Police and previously served two years with the Brunswick Police Department. 
"He is known for his strong work ethic and his determination and skills in detecting and arresting impaired motorists," said Col. John Cote. "[Elgin] is active in his community as a coach and mentor and leads a drug resistance education program in the local schools."
Cpl. Physic was recently selected for a State Police Colonel's Award.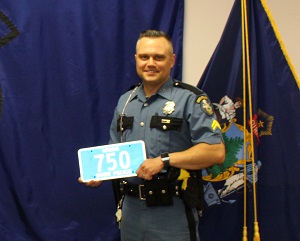 Cpl. Duda is an 8-year Maine State Police veteran, who previously served five years as a Kennebec County Deputy. He is an Emergency Vehicle Operation and Control (EVOC) instructor, K-9 handler, as well as being a member of the Pro-Active Criminal Enforcement (PACE) Team, and a member of the Motor Unit. His hard work earned him several awards, including Troop G Trooper of the Year Nominee, Colonel's Award, Meritorious Service Awards and a New England Narcotics Officer's Award.
"Cpl. Physic and Cpl. Duda bring different specialties to the midnight shift. Cpl. Physic is one of the top OUI producers in the state and teaches at the academy with his knowledge and experience," said Lt. Erik Baker, Commander of Troop G (Maine Turnpike). "Cpl. Duda is one of the best interdiction troopers we have and with the assistance of his K9 he is helping keep opioids off the street. These two will help lead the troopers they work alongside and keep the people in the state of Maine safe!"