Troop D weekly activities for time July 5th to July 11th, 2021

On 7/8/21, Tr. Dunn came across a wrong-way driver traveling northbound in the southbound lanes on I-295 in West Gardiner. Michael Pass (40) of Durham was arrested for OUI and VCR.
On 7/9/21, Tr. Peckham stopped Jessica Shaughnessy (34) of Sabattus for a traffic violation in Phippsburg.  Shaughnessy was charged with OAS.
On 7/9/21, Sgt. Neagle arrested Joshua Eugley (34) of Windsor on an active arrest warrant for FTA on Operating After HO issued by the Augusta Unified Court.  Eugley was bailed out from the Troop D Barracks. 
On 7/9/21, Sgt. Neagle investigated a two-vehicle crash in Windsor.  Investigation revealed that Miranda Pease (35) was one of the operators involved and was driving intoxicated with her fifteen-year-old son as a passenger in her vehicle.  Pease was arrested and transported to APD where she completed an Intoxilyzer test confirming she was above the legal limit.    
On 7/9/21, Sgt. Neagle and Troopers Dunn and Anstett responded to a single vehicle roll over crash in China.  The male operator who was later identified as Thomas Hood (24) of China, fled the scene and walked to his parent's residence where he was met by Tr. Anstett as he emerged from the woods.  Sgt. Neagle arrested Hood for OUI w/ 1 prior, Leaving the Scene of PI Crash, and F/T Report Crash by Quickest Means.  Hood was transported to Winslow PD where he completed the intoxilyzer test confirming he was above the legal limit.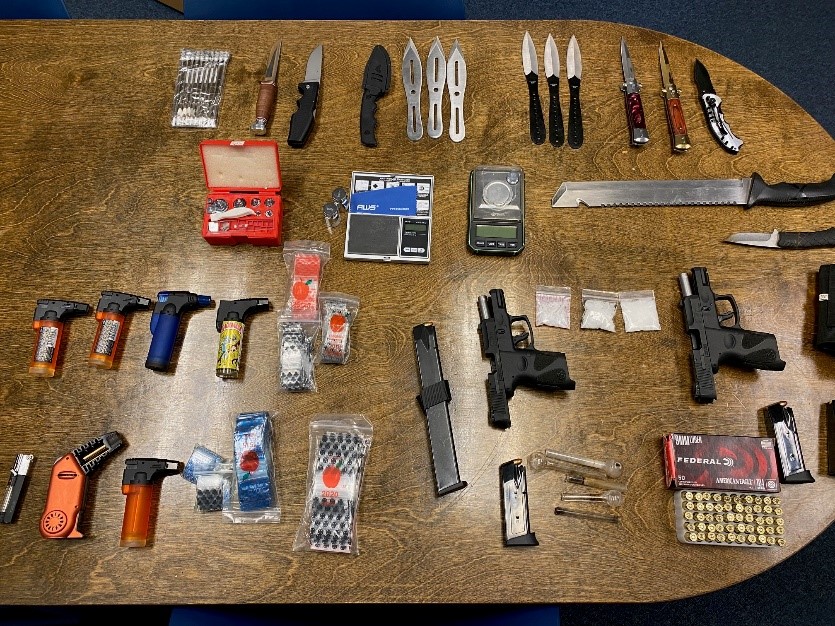 On 7/9/21, Cpl. Quintero responded to a noise complaint on Roberts Shore Rd in the Town of Liberty. While investigating the source of the noise Cpl. Quintero made contact with Zebediah Maker 36 of that address and Crystal Cunningham30 also of that address.  During the course of the investigation it was learned that Cunningham was in possession of approximately 22 grams of methamphetamine along with scales and packaging material, a digital scale, a 9mm pistol, 13 knives and a machete. Cunningham was found to be on conditions of release related to one count of aggravated Trafficking of methamphetamine while armed with a shotgun as well as a separate and unrelated charge of trafficking in methamphetamine.  During the course of the investigation Zebediah Maker was arrested for Unlawful Possession of a Firearm by a prohibited person after a separate 9mm pistol was found in his home.  Maker was also out at the time of the offense on a Conditional release from the jail. Trooper Webber, Trooper Dunn and Trooper Anstett assisted at the scene.  

On 7/10/21, Cpl. Pelletier stopped Karin Hall-Gorman (54) on Rt.1 in Brunswick for a speeding infraction. Her license was expired in excess of 90 days, and she was summonsed for the offense.  

On 7/11/21, Following an investigation by Cpl. Quintero, Sgt. Couturier and Tr. Webber, Kevin Michaud (58) was arrested at his home in China by Cpl. Quintero.  Michaud was arrested on one count of Simple Assault Class D and summonsed for one count of Unlawful Sexual Touching.  Michaud came to the attention of Troopers following the discovery of Michaud's online communications with a 13-year-old female. The charges arose out of a pair of incidents occurring with the 13-year-old in Waldo County earlier this year.   Michaud was booked into Waldo County Jail.  Michaud was released on bail with conditions that he have no contact with any children under the age of 18 and not to return to the Waldo County Technical Center where he had recently served as the school's director.