Allagash Wilderness Waterway
Revision to 1999 Management Plan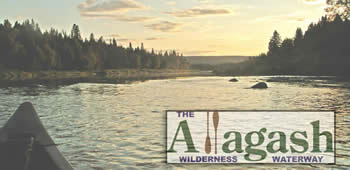 The Allagash Wilderness Waterway stretches 92-miles from its southernmost point, Telos Dam in T6 R11 WELS, to its northernmost point at Twin Brook in Allagash Village, just a few miles above the confluence of the Allagash and Saint John Rivers. Established by the Maine State Legislature in 1966 and designated by the U.S. Department of the Interior in 1970 as the first state-administered component of the National Wild and Scenic River System, the Waterway is dear to the hearts of many outdoor recreation enthusiasts.
Management Planning
The Bureau of Parks and Lands recently completed an update to the Allagash Wilderness Waterway Management plan. The new plan, crafted with invaluable input from a hard-working advisory committee as well as the general public, serves as the active plan for the next 15 years.
The Plan
The new plan is available for download below. You may download the entire plan or download individual sections; please note file sizes.

For more information:
Rex Turner
Outdoor Recreation Planner
Maine Department of Agriculture, Conservation, and Forestry
Bureau of Parks and Lands
22 State House Station
Augusta, ME 04333-0022
(207) 287-4920
rex.turner@maine.gov