September 5, 2020
Katharine England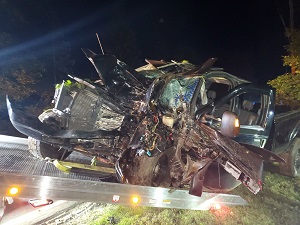 Maine State Police from Troop C are investigating a fatal crash involving a man from Hudson.
On Saturday, Sept. 5, 2020, at 2:13 a.m., Maine State Police Troop C Troopers responded to 156 Warren Hill Road in Palmyra for a report of a crash involving a single vehicle with numerous injuries.
 
Upon arrival and investigation into the crash, Troopers learned that Adam Webber (25) of Hudson Maine was killed in the crash, and six occupants in his 2005 Ford F350 all sustained serious injuries as a result of the truck's impact. The occupants were transported for medical treatment to Sebasticook Valley Hospital. 
 
The case remains under investigation, but speed and alcohol were both likely factors in the crash. 
 
Anyone with information regarding the crash should contact the Maine State Police Troop C in Skowhegan at 207-624-7076 and ask to speak with Trooper Garrett Booth.