April 7, 2022
Katharine England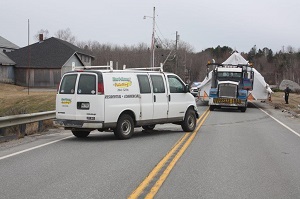 On April 7, 2022, at approximately 11:49 a.m., a wide load was being escorted from South Paris to Lubec. As the vehicle was traveling east on Route 1 and was approaching the Sullivan bridge. There was a van crossing the bridge in the oncoming westbound lane. The driver of the wide load applied brakes as the van approached, causing the load to shift and the tractor skidded and the vehicles collided. 
 
The driver of the van was Clarence Hardwick, 65, of Gouldsboro. He was injured and taken to  Northern Light EMMC with injuries that are not life threatening. 
 
The driver of the tractor-trailer is Aaron Small, 41, of Oxford, was not injured. 
 
Previous release:
UPDATE: Rt. 1 in Hancock has reopened

A head-on crash on Route 1 in Hancock has shut down the road near the town line of Sullivan. Motorists are advised to avoid the area and seek an alternate route. Hancock County Deputies are re-routing traffic in the vicinity of Tideway in Hancock.
The accident was caused by a mobile home being escorted, the load shifted causing the tractor trailer to jackknife and strike an oncoming vehicle head-on. There are possible injuries, but no further details at this time.