Donald B. MacMillan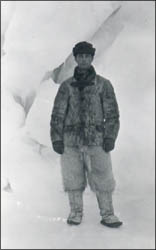 1874-1970. Explorer Donald B. MacMillan attended high school in Freeport and graduated from Bowdoin College in 1898 with a degree in geology. MacMillan accompanied explorer Robert E. Peary to the North Pole in 1908, turning back before reaching the pole because of frozen heels.
He commanded his own expedition to Greenland in 1913 and was stranded until 1917 due to icy waters - his motivation for designing a ship made for Arctic travel. When he returned home he joined the Navy and served in World War I. When the war ended, MacMillan raised money and built his ship. In 1921 the schooner Bowdoin was launched from East Boothbay, Maine. He made two dozen expeditions to the Arctic.
MacMillan joined the Navy again during World War II and transferred the Bowdoin to the Navy for the duration of the war, where she worked in Greenland waters. After the war, MacMillan continued his trips to the Arctic, taking researchers north and carrying supplies for the MacMillan-Moravian School he established in 1929.
In 1954 MacMillan was awarded the Bowdoin Prize. The schooner Bowdoin is now part of Maine Maritime Academy's fleet, moored in Castine, Maine. In 1989, the Bowdoin was designated as a National Historic Landmark.
---
Robert E. Peary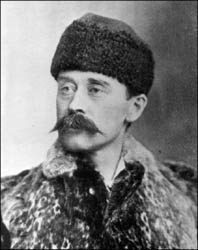 1856-1920. Robert E. Peary attended Portland High School and Bowdoin College graduating in 1877 with a civil engineering degree. He worked as the town surveyor in Fryeburg. Peary later moved to Washington D.C. working for the Coast and Geodetic Survey and eventually joined the U.S. Navy and Civil Engineers Corps. In the 1890's Peary made several trips to Greenland. Peary and his guides were the first to reach the North Pole on April 6, 1909. After retiring from the Navy in 1911, Peary summered on Eagle Island, which is now a state park, off the coast of Freeport. For more information: https://freeporthistoricalsociety.org/freeport-history
https://www.bowdoin.edu/arctic-museum/educational-resources/arctic-biographies/peary.html