Christopher J. Cassidy (Captain, U.S. Navy) NASA Astronaut
1970 - present. Christopher J. Cassidy, a U.S. Navy SEAL Captain, was selected as an astronaut by NASA in 2004. He is a veteran of to space flights, STS-127and Expedition 35. During STS-127, Cassidy served as a Mission Specialist and was the 500th person in history to fly into space. Cassidy recently (2000) served as commander on the International Space Station for Expedition 63. He is a recipient of the Bronze Star with combat 'V' and Presidential Unit Citation for leading a nine-day operation at the Zharwar Kili Cave on the Afghanistan/Pakistan border. Born in Salem, Massachusetts, Cassidy considers York, Maine to be his hometown and he is a graduate of York High School.
For more information and full biography, visit https://www.nasa.gov/astronauts/biographies/christopher-j-cassidy/biography
---
Bernard Lown
June 7, 1921-February 16, 2021. Dr. Bernard Lown was a cardiologist who developed the direct current defibrillator and the cardioverter for correcting disordered heart rhythms. He is credited with many medical break-throughs and life-saving innovations that modernized cardiac care and cardiac surgery.
Lown received many honors and recognitions for his work, including the Nobel Peace Prize in 1985 for his co-founding of the International Physicians for the Prevention of Nuclear War organization.
Lown was born in Lithuania and immigrated to Maine at age 14, where he graduated from Lewiston High School in 1938. He went on to earn a bachelor's degree in zoology from the University of Maine and his medical degree from Johns Hopkins University.
Throughout his life, he wrote many articles and books, and worked as a professor of cardiology at Harvard. Among other pursuits, he founded the Lown Cardiovascular Center, Lown Cardiovascular Research Foundation, and the Lown Institute, which focuses on healthcare reform.
In 2008, the former South Bridge from Lewiston into "New" Auburn was named in his honor as the Bernard Lown Peace Bridge.
For more information visit: https://lowninstitute.org/about/dr-bernard-lown/
---
Donald B. MacMillan

Photo courtesy of The Peary-MacMillan
Arctic Museum, Bowdoin College
1874-1970. Explorer Donald B. MacMillan, born in Provincetown, Massachusetts attended high school in Freeport and graduated from Bowdoin College in 1898 with a degree in geology. MacMillan accompanied explorer Robert E. Peary to the North Pole in 1908, turning back before reaching the pole because of frozen heels.
He commanded his own expedition to Greenland in 1913 and was stranded until 1917 due to icy waters - his motivation for designing a ship made for Arctic travel. When he returned home he joined the Navy and served in World War I. When the war ended, MacMillan raised money and built his ship. In 1921 the schooner Bowdoin was launched from East Boothbay, Maine. He made two dozen expeditions to the Arctic.
MacMillan joined the Navy again during World War II and transferred the Bowdoin to the Navy for the duration of the war, where she worked in Greenland waters. After the war, MacMillan continued his trips to the Arctic, taking researchers north and carrying supplies for the MacMillan-Moravian School he established in 1929.
In 1954 MacMillan was awarded the Bowdoin Prize. The schooner Bowdoin is now part of Maine Maritime Academy's fleet, moored in Castine, Maine. In 1989, the Bowdoin was designated as a National Historic Landmark.
---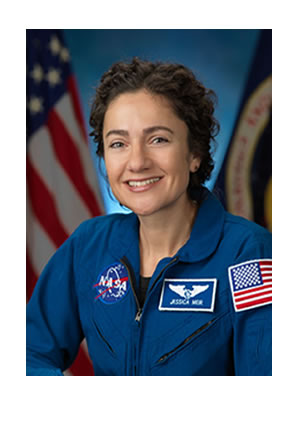 Jessica U. Meir (PH.D.) NASA Astronaut
1977 - present. Jessica U. Meir was selected by NASA in 2013. Meir most recently served as flight engineer on the International Space Station for Expedition 61 and 62. From 2000 to 2003, Dr. Meir worked for Lockheed Martin's Human Research Facility, supporting human physiology research. During this time, she also participated  in research flights on NASA's reduced gravity aircraft and served as an aquanaut in an underwater habitat for NASA Extreme Environment Mission Operations (NEEMO).  She is a private pilot and is conversational in Swedish and Russian. Born and raised in Caribou, Maine, Meir is a graduate of Caribou High School. She holds a Bachelor of Arts in Biology from Brown University, A Masters of Science in Space Studies from the International Space University, and a Doctorate in Marine Biology from Scripps Institution of Oceanography (UCSD).
Form more information and full biography, visit https://www.nasa.gov/astronauts/biographies/jessica-u-meir/biography
---
Oliver Otis Howard
1830-1909. Oliver Otis Howard, a native of Leeds, was a graduate of Bowdoin College and the U.S. Military Academy. He served as a general in the Civil War and went on to become commissioner of the Freedmen's Bureau, which was charged with integrating the former slaves into society. Howard was an advocate of higher education for the former slaves, and is best known as the founder of his namesake Howard University established in 1867 in Washington, D.C., which welcomed both male and female students of all races. He served as the university's president from 1867–73; and also aided in the charter of Atlanta University, now Clark Atlanta University, in 1867.
For more information, visit https://www.newenglandhistoricalsociety.com/oliver-otis-howard-the-mainer-who-founded-howard-university/
---
Robert E. Peary

Photo credit: Courtesy of The Peary-MacMillan
Artic Museum, Bowdoin College
1856-1920. Robert E. Peary born in Gallitzin, Pennsylvania attended Portland High School and Bowdoin College graduating in 1877 with a civil engineering degree. He worked as the town surveyor in Fryeburg. Peary later moved to Washington D.C. working for the Coast and Geodetic Survey and eventually joined the U.S. Navy and Civil Engineers Corps. In the 1890's Peary made several trips to Greenland. Peary and his guides were the first to reach the North Pole on April 6, 1909. After retiring from the Navy in 1911, Peary summered on Eagle Island, which is now a state park, off the coast of Freeport. For more information: https://freeporthistoricalsociety.org/freeport-history
https://www.bowdoin.edu/arctic-museum/educational-resources/arctic-biographies/peary.html