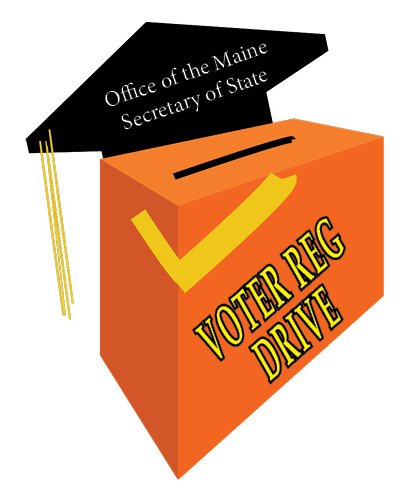 Student Voter Registration Drive
Students: How to host a voter registration drive at your school
This page features links to all the information you'll need to host a successful voter registration drive at your school. You may want to schedule it to coincide with National Voter Registration Day, which is the fourth Tuesday of September. If you choose another day, we encourage you to complete your registration efforts during the month of September.

The Maine Bureau of Corporations, Elections and Commissions provides your school with voter registration cards, but it's up to you to make your classmates aware of the importance and power of their vote. The State of Maine allows 17- and 18-year-olds to register so high school juniors and seniors will be eligible to take part in your drive.
On this site, you'll find links to posters you can customize for your voter registration drive, facts about your voting rights in Maine, tips on how to run a successful voter registration drive, instructions on how to fill out the voter registration card, and much more. Several of these links will help you brainstorm your own ideas on how to raise awareness and interest in voting.
Be sure to share photos of your event with us via the email below or on our Facebook page, Maine Department of the Secretary of State.
If you have questions about voter registration, please call the Elections Division of the CEC at 624-7650. For questions about the content of this site or other concerns, please contact the Department of the Secretary of State central office at 626-8400 or sos.office@maine.gov.
Promotional materials:
Issues poster: Use this poster during your voter registration drive and have students fill the open space with the issues which they want to have a say on, such as gun laws or environmental policies. You can use sticky notes or just have participants write in the space. Issues Poster (PDF format)
Get the Message poster: A promotional poster to display around school, letting people know the time, date and place of your voter registration drive and reminding them they can register at age 17. Get the Message Poster (PDF format)
Maine votes poster: This poster uses the National Voter Registration Day logo and Maine voting logo, with a space to promote the date, time and place of your event. Maine Votes Registration Poster (PDF format)
Create your own poster download logos
National Voter Registration Day - logo
Maine Elections Links:
Instructions for Maine residents completing the Maine Voter Registration Application (Please note that instructions for line #9 explain that first-time voter registration requires a Social Security number or driver's license number on the form. If the registrant is unable to provide this information at the time of registration, they can still submit the form but will need to bring identification and proof of residency to the voting place.)
Maine Voter Eligibility Fact Sheet: Qualifications (including residency requirements) for registering to vote in Maine, as provided in Title 21-A, Maine Law on Elections
Your Rights to Vote in Maine: The rights of a Maine resident to register and vote in statewide elections
Municipal Clerk and Registrar of Voters Mailing Addresses
A Guide to Absentee Voting in Maine: Information on requesting and casting an absentee ballot in the State of Maine
Absentee Ballot Request Service: Voters may submit a request for a ballot using Maine's online service
Maine's e-Democracy Website: A comprehensive listing of information and resources to help citizens learn about government and participate in civic life
More Promote the Vote Links: