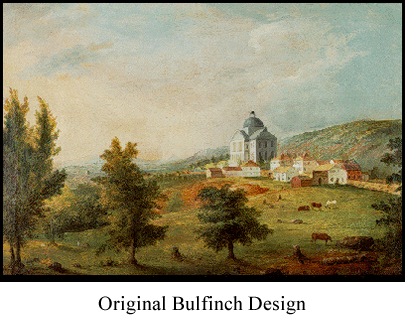 Built of Hallowell granite, the center section of the Maine State House was designed by Charles Bulfinch. Rising upon a knoll above the surrounding city, the four-story building has a 300 foot front with a colonnaded portico in the center, and two 75 foot wings facing east.
The cornerstone was laid in 1829, and the structure was completed three years later. In 1911, it was enlarged according to designs by G. Henri Desmond. The demolition of almost all of the old building, saving the front and rear walls, was necessary. The grounds were graded, additions made to the wings, and a new dome of higher proportion replaced the former one. This was surmounted by a statue, the draped female figure of Wisdom, designed by W. Clark Noble of Gardiner, and made of copper plated with gold.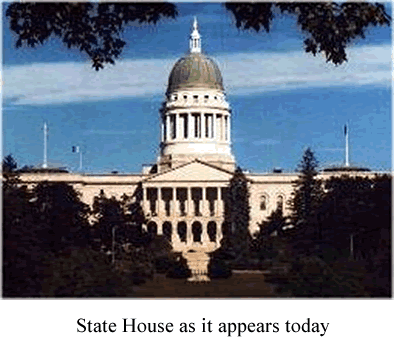 The Governor's offices are on the second floor as well as the Hall of Flags and the extensive Law Library. At either end of the third floor are the House of Representatives and Senate Chambers. Throughout the building are portraits of Governors and other outstanding men and women who have served Maine throughout her history as a province and a state.