County Songs
There are 2 versions of the Maine County Song.
Version 1
To the tune of Yankee Doodle:
The sixteen counties in our state are:
Cumberland and Franklin,
Piscataquis and Somerset,
Aroostook, Androscoggin,
Sagadahoc and Kennebec,
Lincoln, Knox, and Hancock,
Waldo, Washington, and York,
Oxford and Penobscot.
Listen to the County Song sung by the entire fourth grade class at the Dike-Newell School, Bath, Maine in 2008.
Maine County Song Version 1 ( MP3 Format)
Maine County Song Version 1 (MP4 Format)
Version 2
To the tune of Yankee Doodle:
There are 16 Counties in our state:
There's Cumberland and Franklin,
Piscataquis and Kennebec,
Oxford, Androscoggin,
Waldo, Washington and York,
Lincoln, Knox, and Hancock,
Sagadahoc and Somerset,
Aroostook and Penobscot.
Listen to the County song sung by Mrs. Dawson's 4th Grade class and recorded by Mr. John Fenlason of Harrison C. Lyseth School, Portland, 2014
Maine County Song Version 2 (MP3 Format)
Maine County Song Version 2 (M4A Format)
---
County Information
Click on a County for size, population, cities, towns and more!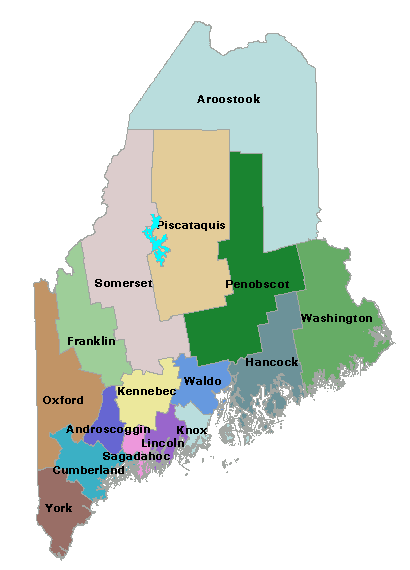 Androscoggin
SIZE: 459 square miles
INCORPORATED: 1854
COUNTY SEAT: Auburn
POPULATION: 107,702
CITIES: Auburn, and Lewiston.
TOWNS: Durham, Greene, Leeds, Lisbon, Livermore, Livermore Falls, Mechanic Falls, Minot, Poland, Sabattus, Turner and Wales.
Aroostook
SIZE: 6,453 square miles
INCORPORATED: 1839
COUNTY SEAT: Houlton
POPULATION: 71,870
CITIES: Caribou, Presque Isle
TOWNS: Allagash, Amity, Ashland, Bancroft, Blaine, Bridgewater, Castle Hill, Caswell, Chapman, Crystal, Dyer Brook, Eagle Lake, Easton, Fort Fairfield, Fort Kent, Frenchville, Grand Isle, Hamlin, Hammond, Haynesville, Hersey, Hodgdon, Houlton, Island Falls, Limestone, Linneus, Littleton, Ludlow, Madawaska, Mapleton, Mars Hill, Masardis, Merrill, Monticello, New Canada, New Limerick, New Sweden, Oakfield, Orient, Perham, Portage Lake, Saint Agatha, Saint Francis, Sherman, Smyrna, Stockholm, Van Buren, Wade, Washburn, Westfield, Westmanland, Weston, and Woodland.
Cumberland
SIZE: 853 square miles
INCORPORATED: 1760
COUNTY SEAT: Portland
POPULATION: 281,674
CITIES: Portland, South Portland, and Westbrook
TOWNS: Baldwin, Bridgton, Brunswick, Cape Elizabeth, Casco, Cumberland, Falmouth, Freeport, Gorham, Gray, Harpswell, Harrison, Naples, New Gloucester, North Yarmouth, Pownal, Raymond, Scarborough, Sebago, Standish, Windham, and Yarmouth.
Franklin
SIZE: 1,789 square miles
INCORPORATED: 1838
COUNTY SEAT: Farmington
POPULATION:30,768
TOWNS: Avon, Carrabassett Valley, Carthage, Chesterville, Eustis, Farmington, Industry, Jay, Kingfield, Madrid, New Sharon, New Vineyard, Phillips, Rangeley, Strong, Temple, Weld and Wilton.
PLANTATIONS: Coplin, Dallas, Rangeley and Sandy River.
Hancock
SIZE: 1,522 square miles
INCORPORATED: 1789
COUNTY SEAT: Ellsworth
POPULATION: 54,418
CITY: Ellsworth
TOWNS: Amherst, Aurora, Bar Harbor, Blue Hill, Brooklin, Brooksvile, Bucksport, Castine, Cranberry Isles, Dedham, Deer Isle, Eastbrook, Franklin, Frenchboro, Gouldsboro, Great Pond, Hancock, Lamoine, Mariaville, Mount Desert, Orland, Osborn, Otis, Penobscot, Sedgwick, Sorrento, Southwest Harbor, Stonington, Sullivan, Surry, Swans Island, Tremont, Trenton, Verona, Waltham and Winter Harbor.
Kennebec
SIZE: 879 square miles
INCORPORATED: 1799
COUNTY SEAT: Augusta
POPULATION: 122,151
CITIES: Augusta, Gardiner, Hallowell and Waterville.
TOWNS: Albion, Belgrade, Benton, Chelsea, China, Clinton, Farmingdale, Fayette, Litchfield, Manchester, Monmouth, Mount Vernon, Oakland, Pittston, Randolph, Readfield, Rome, Sidney, Vassalboro, Vienna, Wayne, West Gardiner, Windsor, Winslow and Winthrop.
Knox
SIZE: 374 square miles
INCORPORATED: 1860
COUNTY SEAT: Rockland
POPULATION: 39,736
CITY: Rockland
TOWNS: Appleton, Camden, Cushing, Friendship, Hope, Isle au Haut, North Haven, Owls Head, Rockport, St. George, South Thomaston, Thomaston, Union, Vinalhaven, Warren and Washington.
PLANTATION: Matinicus Island
Lincoln
SIZE: 457 square miles
INCORPORATED: 1760
COUNTY SEAT: Wiscassett
POPULATION: 34,457
TOWNS: Alna, Boothbay, Boothbay Harbor, Bremen, Bristol, Damariscotta, Dresden, Edgecomb, Jefferson, Newcastle, Nobleboro, Somerville, South Bristol, Southport, Waldoboro, Westport, Whitefield and Wiscasset.
PLANTATION: Monhegan.
Oxford
SIZE: 2,023 square miles
INCORPORATED: 1805
COUNTY SEAT: Paris
POPULATION: 57,833
TOWNS: Andover, Bethel, Brownfield, Buckfield, Byron, Canton, Denmark, Dixfield, Fryeburg, Gilead, Greenwood, Hanover, Hartford, Hebron, Hiram, Lovell, Mexico, Newry, Norway, Otisfield, Oxford, Paris, Peru, Porter, Roxbury, Rumford, Stoneham, Stowe, Sumner, Sweden, Upton, Waterford, West Paris and Woodstock.
PLANTATIONS: Lincoln and Magalloway.
Penobscot
SIZE: 3,258 square miles
INCORPORATED: 1816
COUNTY SEAT: Bangor
POPULATION: 153,923
CITIES: Bangor, Brewer and Old Town.
TOWNS: Alton, Bradford, Bradley, Burlington, Carmel, Charleston, Chester, Clifton, Corinna, Corinth, Dexter, Dixmont, East Millinocket, Eddington, Edinburg, Enfield, Etna, Exeter, Garland, Glenburn, Greenbush, Greenfield, Hampden, Hermon, Holden, Howland, Hudson, Indian Island, Kenduskeag, Lagrange, Lakeville, Lee, Levant, Lincoln, Lowell, Mattawamkeag, Maxfield, Medway, Milford, Millinocket, Mount Chase, Newburgh, Newport, Orono, Orrington, Passadumkeag, Patten, Plymouth, Springfield, Stacyville, Stetson, Veazie, Winn and Woodville.
PLANTATIONS: Carroll, Drew, Prentiss, Sebois and Webster.
Piscataquis
SIZE: 3,770 square miles
INCORPORATED: 1838
COUNTY SEAT: Dover-Foxcroft
POPULATION: 17,535
TOWNS: Abbott, Atkinson, Beaver Cove, Bowerbank, Brownville, Dover-Foxcroft, Greenville, Guilford, Medford, Milo, Monson, Parkman, Sangerville, Sebec, Shirley, Wellington and Willimantic.
PLANTATIONS: Kingsbury and Lake View.
Sagadahoc
SIZE: 250 square miles
INCORPORATED: 1854
COUNTY SEAT: Bath
POPULATION: 35,293
CITY: Bath
TOWNS: Arrowsic, Bowdoin, Bowdoinham, Georgetown, Phippsburg, Richmond, Topsham, West Bath and Woolwich.
Somerset
SIZE: 3,633 square miles
INCORPORATED: 1809
COUNTY SEAT: Skowhegan
POPULATION: 52,228
TOWNS: Anson, Athens, Bingham, Cambridge, Canaan, Cornville, Detroit, Embden, Fairfield, Harmony, Hartland, Jackman, Madison, Mercer, Moose River, Moscow, New Portland, Norridgewock, Palmyra, Pittsfield, Ripley, Saint Albans, Skowhegan, Smithfield, Solon and Starks.
PLANTATIONS: Brighton, Caratunk, Dennistown, Highland, Pleasant Ridge, The Forks and West Forks.
Waldo
SIZE: 724 square miles
INCORPORATED: 1827
COUNTY SEAT: Belfast
POPULATION: 38,786
CITY: Belfast
TOWNS: Belmont, Brooks, Burnham, Frankfort, Freedom, Islesboro, Jackson, Knox, Liberty, Lincolnville, Monroe, Montville, Morrill, Northport, Palermo, Prospect, Searsmont, Searsport, Stockton Springs, Swanville, Thorndike, Troy, Unity, Waldo and
Winterport.
Washington
SIZE: 2,528 square miles
INCORPORATED: 1789
COUNTY SEAT: Machias
POPULATION: 32,856
CITIES: Calais and Eastport.
TOWNS: Addison, Alexander, Baileyville, Beals, Beddington, Centerville, Charlotte, Cherryfield, Columbia, Columbia Falls, Cooper, Crawford, Cutler, Danforth, Deblois, Dennysville, East Machias, Harrington, Indian Township, Jonesboro, Jonesport, Lubec, Machais, Machiasport, Marshfield, Meddybemps, Milbridge, Northfield, Pembroke, Perry, Princeton, Robbinston, Roque Bluffs, Steuben, Talmadge, Topsfield, Vanceboro, Waite, Wesley, Whiting and Whitneyville.
PLANTATIONS: Baring, Codyville and Grand Lake Stream.
York
SIZE: 989 square miles
INCORPORATED: 1636
COUNTY SEAT: Alfred
POPULATION: 197,131
CITIES: Biddeford and Saco.
TOWNS: Acton, Alfred, Arundel, Berwick, Buxton, Cornish, Dayton, Eliot, Hollis, Kennebunk, Kennebunkport, Kittery, Lebanon, Limerick, Limington, Lyman, Newfield, North Berwick, Ogunquit, Old Orchard Beach, Parsonsfield, Sanford, Shapleigh, South Berwick, Waterboro, Wells and York.
Information obtained from: U.S. Census Bureau, Geographic Comparison Table