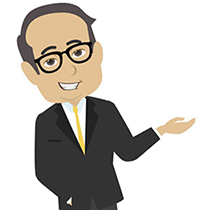 Your senator and representative want to hear from you—it helps them represent you effectively. If you take the time to write to them, you just might be surprised at the results.
Letters and e-mails to legislators now constitute the primary forms of constituent contact. Every note counts—but to be most effective, think about these tips we've learned from long-time legislators about the best way to communicate an idea, concern, or request. Your input can have a big impact on the legislative process, and in a democracy, we all have a voice. Here are some ideas about how to best be heard:
If writing a letter, use clean 8 ½ x 11-inch paper. If you are writing as part of a school project, you may be able to use school letterhead stationery.


 

Be sure to use your exact return address—this is the address they are going to use if they need to respond to you. Put it on both the letter and the envelope. If you are sending an email, also include an address where you can receive mail as well as an email address.


 

Be succinct! Try to keep your inquiries to a page or less. Legislators will ask if they need more information.


 

Identify your subject clearly. If writing about a bill, use the Legislative Document (LD) number (if you aren't sure, you can call the Legislative Information Office at (207) 287-1692. There's also a ton of information about bills online at

www.legislature.maine.gov

).


 

State your reason for writing. Explain how the issue would affect your community. Try to be objective and specific, and back your position with reliable facts and figures (for example—"LD 100, which would limit the use of potatoes in school lunches if passed, would be hard for my farming community where three out of four farmers primarily grow potatoes"). Clearly state whether you are FOR or AGAINST the bill or any of its features. You may think the facts speak for themselves, but the legislator may be less familiar with the subject than you are.


 
Use your own words. Many organized campaigns have 'sample letters' that are helpful, but too many people just copy and paste the same message, which the legislator is less likely to acknowledge individually. "Form letters" are effective, but not as effective as a personal note that identifies clearly how you feel about an issue. "Representative Smith, I know that money is tight, but cutting the budget of the ______ department and eliminating this program will really set my family back" is far more effective than a photocopied note that trumpets a slogan that the legislator is already familiar with.
 
Even if your position is inspired by a group to which you belong, write your own letter in your own words—it will be much more effective and influential than the words prepared by an organization. Of course, if you're part of an organization, you can identify yourself as such, supporting the position of the organization, but in a more personal way. "As a member of the Maine Cave Explorers, I'm hoping you will do what you can to help encourage the art of spelunking in LD 999! I have learned so much about geology, glaciation, and how springs work. I would appreciate your support." Messages like this amplify the work of an organization.
 

Be reasonable; avoid attacking the legislator or demanding that they vote against their own personal beliefs. Threatening them ("I will work tirelessly against you in the next election if you vote for/vote against this bill") or disparaging them ("You are a disgrace to our state") not only is ineffective and won't help your cause, it certainly will close off further communication, and may even get you in trouble if what you write appears to personally threaten them.


 

Ask for a reply, and ask them to state their position on the issue. Also ask if they need further information about the issue. Legislators are real people who come to serve in state government to make a difference, but that doesn't mean they know everything. Often they will welcome the opportunity—time allowing—to learn more about topics that previously had not interested them. They can become a true champion if they realize the importance of an issue.


 

If you are extending an invitation or requesting a meeting, suggest a time and date, or several options for the visit. Being flexible and accommodating enhances the ability to get legislators to pay attention to your issue.


 

Bear in mind the timing of your letter. Writing to legislators after a bill has been referred to a committee and before it's been voted on in that committee is the most effective time to write to the members of the committee; but you can reach out to your own legislator at any time before the bill is up for floor votes in the House and Senate. Pay attention to notices of public hearings and work sessions, and then the legislative schedule, which tells when the bill is going to be up for consideration by either chamber. Your own legislator can help you with this, too. Your senator and representative can usually be more responsive to your appeal early on rather than when the bill has already been either defeated or approved by a committee. Sometimes, a legislator will pay attention to how the committee changes a bill before deciding on whether or not to support it.


 

Thank your legislator if they've voted in a way you support. That helps legislators, too—knowing that they're in step with their constituents. And they remember it! They also will remember if you write to say that you're sorry they didn't vote with you, but hope you can work together on future issues. They appreciate that feedback as well.


 

Remember, this is a social process. Courtesy and good manners gets you much farther than recriminations and name-calling. Helping your legislator means that they will be able to let other legislators know how important your concerns are, and they will appreciate your help and rely on you as an engaged citizen.


 

Address your letter and envelope clearly and correctly.


 
Sen. John J. Jones
3 State House Station
Augusta, ME 04333-0003
Dear Senator Jones:
Rep. Mary J. Jones
2 State House Station
Augusta, ME 04333-0002

Dear Representative Jones:
At the end of your letter, write your signature over your typed name after the closing:
Sincerely, or Very Truly yours,

Mary Ellen Smith