Harold Alfond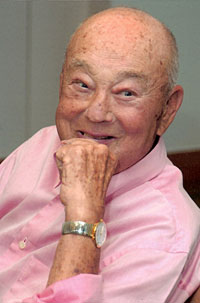 1914 - 2007.  Harold Alfond, philanthropist, businessman and entrepreneur purchased a vacant shoe factory in Norridgewock, Maine along with his father for $1000 in 1940 and sold it 4 years later for $1.1 million. Eight years later, the Harold Alfond Foundation was established, the first private foundation in Maine. Alfond's philanthropy resulted in models of collaboration, teamwork and community involvement gaining national recognition.
In 1956, U.S. Senator Margaret Chase Smith and former Maine Governor and U.S. Senator Owen Brewster sought out Alfond to help create jobs in Brewster's hometown of Dexter, Maine. Alfond purchased a vacant woolen mill in Dexter for $10,000 in 1958 and Dexter Shoe Company was born. At its peak, the company manufactured over 7.5 million pairs of shoes annually. In 1971, Alfond pioneered the factory outlet store at Dexter's Skowhegan, Maine plant. By the 1990s, Dexter had expanded to over 80 outlet stores nationwide, employed nearly 4,000 people and had annual sales exceeding $250 million. Alfond assured Dexter's success by avoiding debt and investing all company profits in state-of-the-art manufacturing technology. In 1993, Alfond sold Dexter Shoe to Berkshire Hathaway.
In 1996, Alfond founded Dexter Enterprises, Inc. to manage his family's philanthropy, investments, legal and business interests. At the time of his death, Alfond was focused on two of his largest projects ever – MaineGeneral Hospital's Harold Alfond Center for Cancer Care and Harold Alfond College Challenge, a model initiative to enhance college opportunities for children in Maine. Alfond committed nearly all of his wealth to the Harold Alfond Foundation to fund charitable causes in the State of Maine for generations to come. He was born in Swampscott, Massachusetts.
---
Leon Leonwood Bean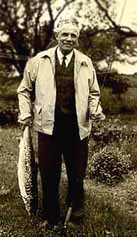 1873 - 1967. Leon Leonwood Bean, known as "L.L." was a true outdoorsman, who lived in Freeport, Maine. L.L. designed the original lightweight boot with leather tops and waterproof rubber bottoms, known today as the "Bean Boot." The first try at the boot was unsuccessful, of the first 100 pairs sold 90 pairs were returned due to poor stitching. Bean, true to his word refunded his customers' money and started over with an improved boot. This was the beginning of the legendary guarantee of 100% satisfaction. The company was founded in 1912 as just a mail order company. The first showroom was opened in Freeport in 1917. Over the years the company has added casual and sports apparel, gear and other footwear to his line. By 1951 people were dropping in by day and night on their way to hunt and fish in Maine. L.L. announced he had "thrown away the key" and the store L.L. Bean has been open to the public 24 hours a day, 365 days a year ever since. L.L lived to the age of 94 and attributed his good health to an active outdoor life. He was born in Greenwood, Maine.
---
Milton Bradley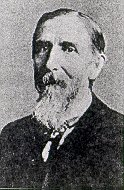 1836 - 1911. Born in Vienna, Maine in 1836, Milton Bradley moved to Lowell, Massachusetts at the age of eleven. In adulthood believing that play benefited children, Bradley developed games through which positive childhood development was stimulated. Bradley is credited as being the first person in the United States to print kindergarten materials in English.
For more information visit: https://en.wikipedia.org/wiki/Milton_Bradley
---
Chester Greenwood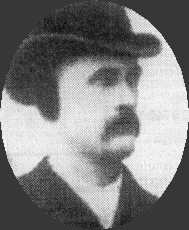 1858 - 1937. Chester Greenwood, the Farmington-born entrepreneur, has gone down in history as the inventor of ear muffs. He also invented the wide bottom kettle, spring steel rake, shock absorber that is an ancestor to today's airplane-landing gear, a new type of spark plug, a simple doughnut hook, a folding bed, and bearings to keep wheels from wrenching off. Greenwood was 15 when he designed his first pair of ear protectors out of wire, beaver fur and cloth. At the age of 19, he acquired a U.S. patent for the earmuffs. By age 28, Chester Greenwood & Company factory was producing and shipping Champion Ear Protectors worldwide. In 1936, the company had its biggest year producing 400,000 pairs.
For more information visit: http://farmington.mainememory.net/page/1103/display.html
---
Jessica McClintock
1931 - 2021. Jessica McClintock, born Jessie Earle Gagnon in Frenchville, Maine, was a fashion designer and businesswoman who built a $150 million fashion empire. She and her designs rose to fame with her Gunne Sax line, introduced in San Francisco in 1969, which featured lacy "granny dresses." In the 1980s, her silk taffeta dresses were also popular. Her designs were well-known for their ornate, feminine look, and their affordability. In the 1990s, she added fragrances, handbags, jewelry and home goods to her brand. McClintock graduated from Presque Isle High School in 1948 and went on to attend Boston University. McClintock lived most of her life in San Francisco, where she owned a mansion previously owned by director Francis Ford Coppola.
For more information: https://jessicamcclintock.com/story/