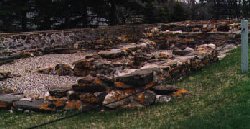 Colonial Pemaquid is situated on a point of land at the mouth of the Pemaquid River in Bristol. Extensive archaeological excavations have unearthed 14 foundations of 17th and 18th century structures and the officers' quarters for Fort William Henry and Fort Frederick. A museum displays hundreds of artifacts found on the site, dating from prehistoric times through the colonial period. Musket balls, coins, pottery, and other early metal goods and utensils are among items of interest. The site includes a reconstruction of Fort William Henry, which also houses museum exhibits.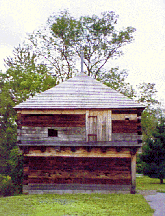 Fort Halifax, built in 1754, was the oldest blockhouse in the United States before it was destroyed during the flood of 1987. A reconstructed blockhouse, which incorporates many timbers from the 1754 blockhouse, stands on the fort's original site at the meeting of the Kennebec and Sebasticook Rivers in Winslow. Fort Halifax was built at this strategic location to protect English colonial settlements along the Kennebec and was garrisoned from 1754-1766.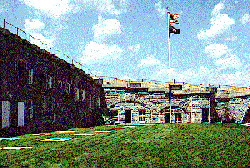 Fort Knox, Maine's largest historic fort, features stunning military architecture and master granite craftsmanship. Constructed between 1844 and 1869, the fort was strategically located on the narrows of the Penobscot River. Although it never saw combat, Fort Knox was garrisoned during the Civil and Spanish American Wars. Visitors can explore the fort's passageways and many rooms. The fort also features two complete Rodman cannons.

Fort Popham is a semi-circular granite fort built in 1861 for use during the Civil War. Modifications were made and the fort used again in the Spanish American War and World War 1. Historical records show that fortifications, probably wooden, existed here and protected the Kennebec settlements during the Revolutionary War and the War of 1812. It was nearby that the English made their first attempt to colonize New England in 1607.
Katahdin Iron Works is the site of a once thriving iron works built in 1843. A restored blast furnace and charcoal kiln remind visitors of an effort that produced nearly 2,000 tons of raw iron annually for half a century. Charcoal was made in fourteen kilns consuming 10,000 cords of wood a year. Beautiful scenery and numerous recreational opportunities surround Katahdin Iron Works. Among the most well-known is Gulf Hagas, a gorge 3.5 miles long through slate bedrock. Gulf Hagas is a National Natural Landmark and part of the Appalachian Trail. Nearby, the Maine Chapter of the Nature Conservancy protects 35 wooded acres of some of Maine's oldest white pines. Known as The Hermitage, this preserve is also a National Natural Landmark.
For complete listings of all of Maine's State Parks, Public Reserved Lands and Historical sites please visit the Maine Department of Conservation, Bureau of Parks and Lands at http://www.maine.gov/doc/prkslnds/chart.htm