Maine's 2017 Big Game Management Plan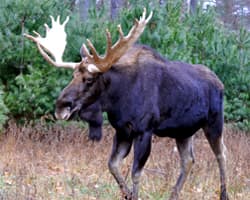 The Maine Department of Inland Fisheries and Wildlife (MDIFW) initiated comprehensive planning in 1968 and have refined and expanded the process with each planning update. In 2016, MDIFW is undertaking a major update of its management plans for big game species (deer, bear, moose, and wild turkey).
The plans for these species will be combined into a single document that will describe the goals and objectives for each species, as well as the strategies the Department will use to achieve them.
MDIFW has convened a steering committee to help guide the overall planning process and subcommittees to provide recommendations for the management of each big game species.
The Department will be soliciting input from the public throughout the planning process. Responsive Management, a nationally recognized company that specializes in understanding the human dimensions of natural resource management, is conducting a scientific survey of Maine residents, hunters, and landowners.
The Department will also be working with Responsive Management to host public meetings across the state, and to develop an online message board. These opportunities will be announced on this site.
Please check out the links below for more information on the planning process. If you have questions about the process or would like to submit comments, please contact the appropriate person below.
Committee
Purpose
Contact
Steering Committee (PDF)
The Steering Committee serves as the initial sounding board for MDIFW on both overall process and initial plan components and drafts; provides feedback to MDIFW between partner meetings on time-sensitive issues involving the plan revision; and, establishes the timeline for the plan revision and ensures that the timeline is met.

October 22, 2015 December 17, 2015 February 18, 2016 March 7, 2016 May 19, 2016 July 20, 2016
Nathan Webb, Coordinator, Maine's 2016 Big Game Management Plan Revision (nathan.webb@maine.gov)
Bear Subcommittee (PDF)
The bear subcommittee identifies bear management issues that should be addressed in the plan, reviews the draft bear species assessment, and develops draft goals, objectives, and management strategies.
Jen Vashon, MDIFW Bear and Lynx Biologist (jennifer.vashon@maine.gov)
Deer Subcommittee (PDF)
The deer subcommittee identifies deer management issues that should be addressed in the plan, reviews the draft deer species assessment, and develops draft goals, objectives, and management strategies.
Kyle Ravana, MDIFW Deer Biologist (kyle.r.ravana@maine.gov)
Moose Subcommittee (PDF)
The moose subcommittee identifies moose management issues that should be addressed in the plan, reviews the draft moose species assessment, and develops draft goals, objectives, and management strategies.
Lee Kantar, MDIFW Moose Biologist (lee.kantar@maine.gov)
Wild Turkey Subcommittee (PDF)
The wild turkey subcommittee identifies wild turkey management issues that should be addressed in the plan, reviews the draft wild turkey species assessment, and develops draft goals, objectives, and management strategies.

Meeting Minutes:
Kelsey Sullivan, MDIFW Game Bird Biologist (kelsey.m.sullivan@maine.gov)