Chickadee Check-off
Endangered & Non-game Wildlife Fund
Stable funding to address wildlife programs is desperately needed!!
As you complete your State of Maine income tax form please use Schedule CP to make a donation to the "Chickadee Check-off". This is a separate form that is included in the 1040S-ME short form booklet and 1040ME long form booklet.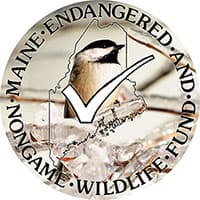 Volunteer contributions to the Chickadee Checkoff on Maine's income tax form initially provided funding for
non-game and endangered and threatened species in Maine. The department deposits checkoff contributions into the Maine Endangered and Non-game Wildlife Fund [ENWF] - a dedicated, interest-bearing account. In 1984, taxpayers contributed $115,794 to the Chickadee Checkoff; by 2009, contributions had plummeted 71% to $33,751.
Given our limited financial resources, Maine can be proud of the accomplishments made for non-game and endangered wildlife in the last 30 years.
Maine's Bald Eagle population has grown from 29 pairs in 1972 to more than 631 pairs today, and in 2009 was delisted from Maine's list of Endangered and Threatened Species.
Piping Plovers have increased from seven pairs nesting on four beaches in 1983 to 44 pairs nesting at 25 sites in 2013, due largely to intensive management at nesting sites and the cooperation of private landowners and municipalities.
Surveys for many Endangered and Threatened Species, and a number of Special Concern species, were conducted in several ecoregions around the state, thus significantly enhancing our knowledge of the status of many wildlife species and important habitats.
Specific baseline surveys were initiated or completed for amphibians, reptiles, breeding birds, owls, shorebirds, nesting seabirds, harlequin ducks, purple sandpipers, great blue herons, dragonflies, damselflies, salt marsh birds, island-nesting wading birds, grassland birds, freshwater mussels, bats, black terns, Canada lynx, and wolves.
Major research studies of spotted and Blanding's turtles, vernal pools, bald eagles, Atlantic puffins, Razorbills, Arctic terns, wood turtles, Tomah mayflies, harlequin ducks, New England cottontails, sharp-tailed sparrows, and black terns provided, and are providing, data critical to inform management decisions.

Photo Credit: Ron Butler

The Department initiated a Canada lynx radio-telemetry study in Maine in 1999 at a time when there was little information about lynx in the entire contiguous United States. Research efforts have greatly expanded our knowledge and understanding of lynx abundance, home range, habitat use, survival, den site selection, reproduction, and interspecific competition with other predators, and have provided a significant contribution to the understanding of lynx in the United States.
More than 60 species assessments (comprehensive documents that summarize current knowledge about a species) and nearly 30 management systems (blueprints for making management decisions) were compiled for a number of species and species groups.
Several new species were discovered in Maine including: the Quebec emerald dragonfly (formerly found only in bogs in Quebec), scarlet bluet damselfly (historically found only in ponds and lakes of southern New England), and the frigga fritillary. The sedge wren and Tomah mayfly were rediscovered after they were believed to be extirpated from Maine.
Land protection has accelerated the purchase of conservation easements and fee ownership of many coastal areas, islands, bald eagle nesting areas, lake-shores, and rare and endangered species habitats.
A number of websites, books, and informational materials were produced in cooperation with partners to increase awareness and understanding of rare and endangered wildlife in the state.
Conservation partnerships have been established and strengthened.
We are all working hard to keep Maine a special place. Your contribution to the Chickadee Check-off on your Maine income tax form is greatly needed to help conserve Maine's wildlife diversity. Thank you!!
There's something wild lurking on your tax return!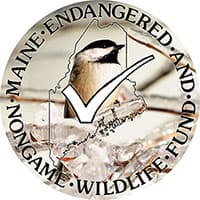 Give a gift to wildlife this year - put a check with the chickadee!