Strategic Management Plans
Maine's 2021–2035 Statewide Fisheries Management Plan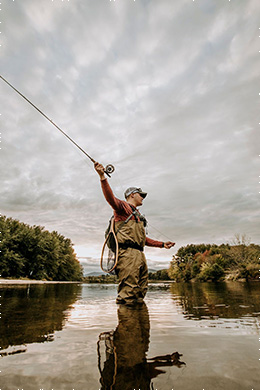 Comprehensive resource management planning was initiated within the Department of Inland Fisheries and Wildlife (MDIFW) in 1968 and has been continually refined and expanded over time. During the previous planning process, the Fisheries and Hatcheries Division sought the opinions of a Public Working Group to represent public desires for species management and to help develop much of the content contained within the plan. While this process was successful, it also had some shortcomings, most notably limited public involvement and goals that were sometimes difficult to implement and achieve when considering the state's diverse fisheries resources.
For the 2021–2035 plan, MDIFW contracted with Responsive Management (Harrisburg, Virginia) to conduct a formal scientific survey of license buyers and gather an objective and truly representative public opinion of the Division's management programs. This survey effort, which laid the groundwork for the development of the 2021–2035 plan, included over 1,200 individual responses from a combination of resident and non-resident anglers as well as comments from separate regional public meetings and focus groups. A steering committee comprised nearly entirely of non-MDIFW staff (included one member from MDIFW's Warden Service) was also assembled to provide guidance and advice to the Division's planning team throughout the planning process. In addition, the Division formed eight technical subcommittees that included members of the public and MDIFW staff. These subcommittees used a combination of information gathered during the Responsive Management survey as well as their own experiences and expertise to help identify future management needs. Division staff worked with the public subcommittee members to develop realistic goals, while also creating some flexibility to better accommodate site- and species-specific differences across the state.
Another significant update to the 2021–2035 planning process is the addition of a comprehensive summary of the Fisheries and Hatcheries Division's structure, responsibilities, and operations (Volume II). Some of this material can be found in other documents and distributed throughout the Department's website but has never been compiled into a single reference document. This information can be thought of as the who, what, where, when, and why of the Fisheries and Hatcheries Division. We hope that readers will find it valuable as a resource to help answer questions and increase awareness of the Division's efforts to conserve and enhance freshwater fish populations throughout Maine.
The draft plan was available and open for public October 15 – November 15, 2021. All public comments will be summarized and reviewed by the steering committee and Department staff. A final version will be submitted to the Commissioner of Inland Fisheries and Wildlife for approval and adoption. The final draft will be available in 2022.
For more information please contact Matt Lubejko, Fisheries Planner and Research Coordinator at Matthew.Lubejko@maine.gov
Committees
Steering Committee
The steering committee serves as the sounding board for MDIFW on both overall process and initial plan components and drafts, reviews and provides input on draft goals, objectives, and strategies that are developed by MDIFW and subcommittees, and provides feedback to MDIFW on time-sensitive issues involving the development of the plan.
Contact: Matt Lubejko, Coordinator of our 2021–2035 Fisheries Strategic Plan
Steering Committee Members (PDF)
Upcoming Meetings
Past Meetings
March 11, 2021
March 3, 2020
August 22, 2019
May 19, 2016
March 1, 2016
December 9, 2015
Technical Work Groups
Technical work groups have been formed to assist MDIFW with identifying goals and action items for the 2021–2035 planning period. These work groups function under the guidance of MDIFW and the steering committee.
Past Meetings
November 19, 2019
November 20, 2019
January 7, 2020 Landlocked Salmon Technical Work Group
January 10, 2020 Lake Trout Technical Work Group
January 10, 2020 Nonnative Salmonids Technical Work Group
January 14, 2020 Baitfish and Rainbow Smelt Technical Work Group
January 16, 2020 Bass Technical Work Group
January 23, 2020 Lake Whitefish Technical Work Group
January 30, 2020 Arctic Charr Technical Work Group
Januray 31, 2020 Brook Trout Technical Work Group